Changing Seasons
Today's sunrise was earlier than yesterday's.  This whispered to me something about the hope of Spring, even as a February snow storm blew in.
Changing seasons are the keeper of our dreams.  A statement worth reflection because life too has seasons and dreams.
Today I thought of this when Katie Kraus, Miss Rodeo Montana 2020, stopped by the store to pick up her trophy saddle.
She is the new reigning Queen. 2019's Queen relinquished the title and substantiated the passage by sharing her experiences to help spur Katie on in pursuit of her own dreams and aspirations. 
If we take the time to reflect on our natural environment, we observe that nothing ever stands still. We recognize that current life circumstances are only temporary. 
Katie was returning from the Black Hills Stock Show & Rodeo, headed home then on to Kissimmee Florida for the Silver Spur Rodeo. She's in awe of what her title stands for and excited about her new adventure. She talked about past college experience, working at a vet clinic, and shared dreams of her future perhaps in animal nutrition research.
Foremost, however, was her "now"- representing Montana.  Although her year has only just begun, it is already dawning on her how whirlwind it will go.  
As nature shows us, nothing stands still.  The sunrise comes earlier each day as we move out of winter into spring.  Summer beckons. Fall will come.  
We marvel at her harmony with these rhythms of change. 
Leave a comment
Comments will be approved before showing up.
---
Also in Connolly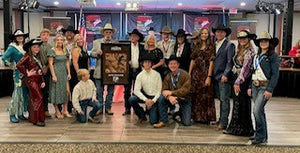 From the age of 8, PRCA Gold Card holder, Dave Wagner began accumulating buckles and saddles competing in timed-event and rough stock anywhere he could find to enter. He didn't care what event it was. He just liked to win. Junior and Youth rodeos blended into High School rodeos, then College rodeos, and onto Open and Amateur rodeos. In 1975, at age 24, Dave got his Pro card, deciding to focus on bull riding. That decision produced 5 Montana Pro Rodeo Circuit Championships -1976, 77, 78, 79, a...
Aaron Flint, host of Montana Talks, could only think of two words to describe his flight over Billings, Montana with the U.S. Navy's Blue Angels on Aug 9, 2023, as "unbelievably incredible." Bo Wagner, owner of Connolly Saddlery was honored when Yellowstone International Air Show producer stopped by the store to ask if he could provide 72 cowboy hats for the pilots. It was a feat in and of itself to have all the sizes in stock, but Bo loaded his horse trailer full of hats and delivered them t...
"The values of hard work, integrity and honoring your word were established by the cowboys settling Wyoming," said Senator Lummis. "Cowboys have a legendary history and thriving culture today thanks to the modern ranchers, ropers and riders who saddle up each day and carry on the tradition.