The Riding Puzzle
Puzzles are challenging and a lot of fun.  So is riding!
Riding is like putting a 1000 piece puzzle together.  You must connect the pieces for the picture to become clear.
The three basic puzzle pieces of horseback riding are:   Ride, Guide and Stride.
*Ride – encompasses the saddle.
What you need depends on what kind of riding you are doing.  If you are a beginner and don't know yet, that is simple too, get a basic saddle.  Our Lite All Around is perfect for a rider that wants to be versatile. It is light weight and can be thrown on the horse easily.  The seat keeps you secure and balanced in just the right place. 
*Guide – entails using a bit, bridle and reins.
          Every horse and every rider is different.  What you need depends on your horse and what you are going to be doing. Again, if you are a beginner, start with a basic bit that gives you control to stop and turn.  A harness leather headstall with a browband and throat latch is practical and safe.  Use split reins to start out with.  The more you ride the more you figure out exactly what you need. 
*Stride – involves legs.
          Protect your investment; without good feet and legs, you aren't going far.  A hoof pick is essential.  Clean out your horses feet before each ride, no matter what you are going to do.  Protective leg gear is important.   Professionals Choice is branded exact…professional trainers have developed products based on what they have learned from their experiences.   Their expertise and hours in the saddle saves you a lot of trial and error time. 
The best way to figure out the puzzle pieces of riding, is by riding!  The realm of your experience expands every time you throw a leg over your horse!  That's the fun part; enjoy the ride!  Bask in the pure joy of mastering the challenge.  Do it over and over and over.  No other activity that I know of, provides so much pleasure in the process of learning.  
Leave a comment
Comments will be approved before showing up.
---
Also in Connolly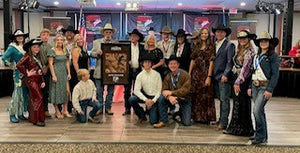 From the age of 8, PRCA Gold Card holder, Dave Wagner began accumulating buckles and saddles competing in timed-event and rough stock anywhere he could find to enter. He didn't care what event it was. He just liked to win. Junior and Youth rodeos blended into High School rodeos, then College rodeos, and onto Open and Amateur rodeos. In 1975, at age 24, Dave got his Pro card, deciding to focus on bull riding. That decision produced 5 Montana Pro Rodeo Circuit Championships -1976, 77, 78, 79, a...
Aaron Flint, host of Montana Talks, could only think of two words to describe his flight over Billings, Montana with the U.S. Navy's Blue Angels on Aug 9, 2023, as "unbelievably incredible." Bo Wagner, owner of Connolly Saddlery was honored when Yellowstone International Air Show producer stopped by the store to ask if he could provide 72 cowboy hats for the pilots. It was a feat in and of itself to have all the sizes in stock, but Bo loaded his horse trailer full of hats and delivered them t...
"The values of hard work, integrity and honoring your word were established by the cowboys settling Wyoming," said Senator Lummis. "Cowboys have a legendary history and thriving culture today thanks to the modern ranchers, ropers and riders who saddle up each day and carry on the tradition.