The Deepest Midnight Blue
What's the allure of the new Midnight Blue color in Cowboy Hats?  People are curious and ask about the new color.  Whether it is attractiveness, charm, fascination, appeal, glamour, I don't know, but it all seems to play a part in the intrigue.
Curiosity comes from men and women alike, young, and old.  The new color suggests tradition with a twist.  Black based with a hint of blue adds flair without taking it too far. 
Customarily, fashion says, "me too" while style says, "only me".  This hat somehow fills the bill for both.  
Midnight Blue is the color of the sky under certain shades of moonlight.  Cowboys have seen this color at some time in their lives, whether it was gathering cattle after dark or sitting under the stars with a sweetheart.  Somehow this color reveals a piece of romance, history and heritage found in everyone's life.
Years ago, a song titled Midnight Blue was released by Lou Gramm.  The lyrics capture the mood and expresses feelings that this new color in cowboy hats is generating.
"I used to follow
Yeah, that's true
But my following days are over
Now I just gotta follow through"
I'm the one who could feel the sun
Right in the pouring rain
I remember what my father said,
He said, "Son, life is simple" It's either cherry red or Midnight blue.
The deepest midnight blue
Connolly's hat shaping services are free with purchase. Call, order online, or stop in the store to purchase your American Hat.  Dave and Bo are masters at shaping hats to give your personal bent to this statement piece of Cowboy individuality. 
Leave a comment
Comments will be approved before showing up.
---
Also in Connolly
Aaron Flint, host of Montana Talks, could only think of two words to describe his flight over Billings, Montana with the U.S. Navy's Blue Angels on Aug 9, 2023, as "unbelievably incredible." Bo Wagner, owner of Connolly Saddlery was honored when Yellowstone International Air Show producer stopped by the store to ask if he could provide 72 cowboy hats for the pilots. It was a feat in and of itself to have all the sizes in stock, but Bo loaded his horse trailer full of hats and delivered them t...
"The values of hard work, integrity and honoring your word were established by the cowboys settling Wyoming," said Senator Lummis. "Cowboys have a legendary history and thriving culture today thanks to the modern ranchers, ropers and riders who saddle up each day and carry on the tradition.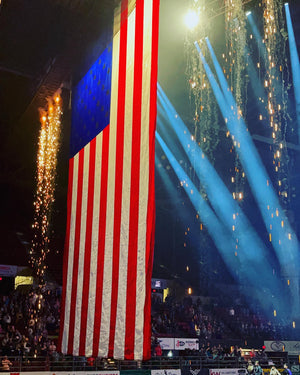 The week of July 4th, known as 'Cowboy Christmas', indicates a very lucrative week full of surprises and elation, tons of rodeos and oodles of money to be won. It's grueling and spectacular at the same time. Gift wrapped in expectations, adrenaline, and money. Even entering these rodeos has a sense of suspense and anticipation. The excitement of finding out when you're up and what stock you draw is like waking up Christmas morning to see what's under the tree!