Make Your Dream Your Goal
When a dream becomes a goal, simplicity and complexity come together.   Choose between significant living and easy living.
While watching The American, over and over I heard these statements: This is what dreams are made of.  Opportunity of a lifetime...
When asked the secret to her success, Hailey Kinsel replied with truthful candor, "there's no secret, I have a good horse and I serve a big God."
That explains what I meant about simplicity and complexity coming together!
The simple truth is that she does have a good horse.
Complexities emerge when you consider all the uncontrollable variables in her win.  And the fact that Hailey plays a crucial part in the equation. No matter how humble her answer, it is her that has to ride, assist, not interfere, and encourage OR no one knows that Sister is a great horse!
It was Hailey that had to deal with Sister pulling a shoe in the 8-man round and still have her ready for the 4-man Finals. The complexity of being prepared, in a matter of minutes, both physically and mentally, is ice water in the veins of humility.  
"The harshness and grit of rodeo isn't limited to the arena; the journey can be just as arduous."  Insightful words from Bull Rider, Tristan Mize, telling his suspense filled days leading up to his most recent Extreme Bulls victory. 
Start making your plans! Read your situation.
Make your dream, your goal!  The future isn't somewhere out there - it's now.
Leave a comment
Comments will be approved before showing up.
---
Also in Connolly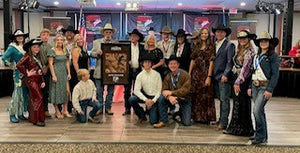 From the age of 8, PRCA Gold Card holder, Dave Wagner began accumulating buckles and saddles competing in timed-event and rough stock anywhere he could find to enter. He didn't care what event it was. He just liked to win. Junior and Youth rodeos blended into High School rodeos, then College rodeos, and onto Open and Amateur rodeos. In 1975, at age 24, Dave got his Pro card, deciding to focus on bull riding. That decision produced 5 Montana Pro Rodeo Circuit Championships -1976, 77, 78, 79, a...
Aaron Flint, host of Montana Talks, could only think of two words to describe his flight over Billings, Montana with the U.S. Navy's Blue Angels on Aug 9, 2023, as "unbelievably incredible." Bo Wagner, owner of Connolly Saddlery was honored when Yellowstone International Air Show producer stopped by the store to ask if he could provide 72 cowboy hats for the pilots. It was a feat in and of itself to have all the sizes in stock, but Bo loaded his horse trailer full of hats and delivered them t...
"The values of hard work, integrity and honoring your word were established by the cowboys settling Wyoming," said Senator Lummis. "Cowboys have a legendary history and thriving culture today thanks to the modern ranchers, ropers and riders who saddle up each day and carry on the tradition.