Faith, Family, and Friends with Lisa Lockhart
The WPRA Star Celebration happens on the first day of the NFR, launching 10 days of spectacular rodeo. As a saddle donor for 10 years now, it is a privilege to award a saddle to one of the Top 15 contestants. Connolly's is a family business. This year six members of our family were there to celebrate. Every year it's a thrill to see fifteen talented women step on stage to receive saddles and recognition for their accomplishments. 2022 was extra special. Lisa Lockhart walked on stage and stood by our Connolly Saddlery Barrel Saddle.
Lisa Lockhart is a longtime family friend. We have followed her accomplishments for sixteen years at the NFR. Her successes are unparalleled in barrel racing. It's been exciting to see her qualify, going to fewer rodeos than anyone some years, to following this year's breathtaking push to the very last week of the season.  An article in barrelracing.com aptly stated, "Her steely nerves and ability to compete whilst fighting off pure exhaustion from the rodeo trail wowed fans during the final days of September."
Connolly's tag line- Be Focused. Be Fast. Be Fabulous., embodies Lisa's Fight to the Finish. Time was running out for the girls on the bubble. Some went home, Lisa decided, 'let's go for it and see what happens.'  A suspenseful, unprecedented drive (literally, even a scary airplane ride), took friends, family, and faith to the limit. Against all odds, she did it – moving up the standings from 24th to 14th.  
As we sat on the edge of our seats, we were Living Life with the L's – Lisa, Louie, and Levee. Louie is always included because Lisa and Louie are synonymous. Together they brought dreams to fulfillment, possibility to reality. Louie is a barrel racing icon, named Barrel Horse of the Decade. Louie let Lisa showcase her ability as a horsewoman. This year, Levee took on the challenge. Levee capped it off when she jockeyed him through inexperience to remarkable victories. The duo won 4 go-arounds and placed in 3 others, sky-rocketing their winnings at the 2022 NFR to $168,326 and career earnings to $3,174,378. Horses, barrel racing, awards and winnings are cherished bonuses afforded Lisa's life of Faith, Family, and Friends.
Leave a comment
Comments will be approved before showing up.
---
Also in Connolly
Aaron Flint, host of Montana Talks, could only think of two words to describe his flight over Billings, Montana with the U.S. Navy's Blue Angels on Aug 9, 2023, as "unbelievably incredible." Bo Wagner, owner of Connolly Saddlery was honored when Yellowstone International Air Show producer stopped by the store to ask if he could provide 72 cowboy hats for the pilots. It was a feat in and of itself to have all the sizes in stock, but Bo loaded his horse trailer full of hats and delivered them t...
"The values of hard work, integrity and honoring your word were established by the cowboys settling Wyoming," said Senator Lummis. "Cowboys have a legendary history and thriving culture today thanks to the modern ranchers, ropers and riders who saddle up each day and carry on the tradition.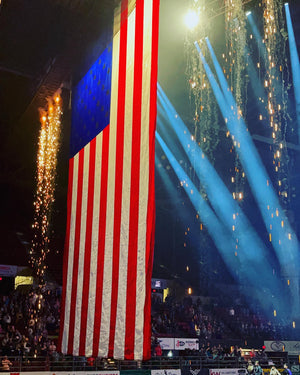 The week of July 4th, known as 'Cowboy Christmas', indicates a very lucrative week full of surprises and elation, tons of rodeos and oodles of money to be won. It's grueling and spectacular at the same time. Gift wrapped in expectations, adrenaline, and money. Even entering these rodeos has a sense of suspense and anticipation. The excitement of finding out when you're up and what stock you draw is like waking up Christmas morning to see what's under the tree!