Challenge Yourself!
             A desire accomplished is sweet to the soul…  Proverbs 13:19
Figuring out what each horse needs is the challenge of training horses.  It is so fulfilling to help your horse reach his full potential.
First, you must figure out how to communicate what you want him to do.  This means you spend lots of time on your horse.  So much of training is about feel.  Learning 'feel' means spending hours and hours on different horses, bareback and with saddles, doing anything and everything.  Feel what is happening.  It is essential for you to know instinctively, -- if I do this, he does that! 
Before applying rein or leg pressure, know in your own mind what it is that you are asking for and how you want the horse to respond.
When asking them to break at the poll or to rate down, your hands are doing the same thing, but your body is different.  If you want them to break at the poll, you sit up and squeeze your legs, but when asking them to rate, you melt down into the saddle and relax your legs.
To ask your horse to break at the poll and continue to move forward, apply pressure to the reins with both hands and squeeze your calves together.  This causes the horse to lift its ribcage and round up through its back, which causes him to break at the poll because it gets him in that real collected position.
To stop or rate, take hold of the reins, tilt your pelvis back, sit deeper in the saddle and move your legs slightly forward.  This brings his hindquarters up under him, and drops his tail set, for a balanced and collected rate or stop.
When you get the response, release pressure. You want them to know that when you ask for it, you expect it, but as soon as you get it, you'll release.  Release means that you stop giving the cue you were giving, from either your hands or legs or both.
The release can be exaggerated by moving your hands forward, or it can be as subtle as relaxing your fingers on the reins.  When you give a horse that little bit back, they understand that they'll stop getting pulled on because they did what you wanted.
Feel is everything. If you touch the bridle reins, know what you're asking for and as soon as you get it, release – you have to give back to the horse. If you want to, you can take it right back and ask again after you've release, but you have to release, or the horse won't know that it's done the right thing.
It's the same thing if you put a leg on your horse. There needs to be a reason you did it and you need to get what you were looking for and then release.  Whether it be rate, breaking at the poll, turning around or whatever, you need to know what you are asking for so when you get the correct response, you can release.  The release communicates to the horse that it has done what you wanted. 
Release is Reward! 
Leave a comment
Comments will be approved before showing up.
---
Also in Connolly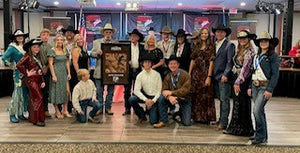 From the age of 8, PRCA Gold Card holder, Dave Wagner began accumulating buckles and saddles competing in timed-event and rough stock anywhere he could find to enter. He didn't care what event it was. He just liked to win. Junior and Youth rodeos blended into High School rodeos, then College rodeos, and onto Open and Amateur rodeos. In 1975, at age 24, Dave got his Pro card, deciding to focus on bull riding. That decision produced 5 Montana Pro Rodeo Circuit Championships -1976, 77, 78, 79, a...
Aaron Flint, host of Montana Talks, could only think of two words to describe his flight over Billings, Montana with the U.S. Navy's Blue Angels on Aug 9, 2023, as "unbelievably incredible." Bo Wagner, owner of Connolly Saddlery was honored when Yellowstone International Air Show producer stopped by the store to ask if he could provide 72 cowboy hats for the pilots. It was a feat in and of itself to have all the sizes in stock, but Bo loaded his horse trailer full of hats and delivered them t...
"The values of hard work, integrity and honoring your word were established by the cowboys settling Wyoming," said Senator Lummis. "Cowboys have a legendary history and thriving culture today thanks to the modern ranchers, ropers and riders who saddle up each day and carry on the tradition.