Lynda Ottun Memorial Barrel Race
Lynda Ottun Memorial Barrel Race is all about helping others. "The tear in the eye of someone we have helped reminds us of Lynda's legacy and why we continue to work at this cause." It tugs at your heart to read comments made about the barrel race:  Good Job everyone, Congratulations. Wish I was there, hope to next year, good luck to all. Thank you to everyone for your hard work. The family's response to an inquiry if someone placed- "he won some fun peewee prizes and is worth his weight in gold!" … a post from Lynda's daughter, "I feel like I'm supposed to share this as it was the first thing I saw this morning: Some trust in chariots and some in horses but we trust in the name of the Lord our God. Ps 20:7." A barrel race, in its 18th year, that is so fitting to be held on Memorial Day weekend as we remember the sacrifice of others and honor their legacy. This barrel race honors legacy. Here is their story.

    On March 1, 2005 the rodeo family of Montana lost a very special person.  Lynda Ottun passed away after a long, hard-fought battle with ovarian cancer.  She was born and raised on Rosebud Creek, near Forsyth, and later moved to Billings with her husband, Jon, and two daughters, Joeleen and Jaime.  Lynda, who was practically raised on a horse, grew up living and loving the ranch and rodeo way of life.  Her passion was to train her horses and to barrel race.  Growing up, Lynda won many titles in high school rodeo, including Montana State All-Around Cowgirl.  She qualified for the Northern Rodeo Association Finals many times, as well as the Montana Pro Rodeo Circuit Finals.  She also qualified for the Women's Pro Rodeo Association Finals in Fort Worth, Texas. The best part is that her talent did not stop with her horses.  Besides being a wonderful mother, she was a great friend to a lot of people in Montana.  If she was not helping someone physically she was always there with a positive smile and a kind word.  Lynda was always there for whoever needed her and now we are trying to keep her traditions alive and well, for people who would have benefited from knowing her. On May 29th, 30th, and 31st, the 17th Annual "Lynda Ottun Memorial Barrel Race" will be held at Miller's Horse Palace in Billings, Montana.  We have a contestant social and inspiring Cowboy Church Service. You may also bid on items from the silent auction.  On Saturday, Sunday, and Monday we will host a 5-D Open barrel race followed by the youth and senior divisions. Our goal as a group is to be able to help people just like Lynda:  good people who need a helping hand every now and then.  We are primarily focusing on our ranch and rodeo community who might find themselves subject to hard times or in crisis due to medical bills or other tragedies in life.  We want to be able to help the same people who came to help Lynda.  We hope to raise enough money to be able to help as many people as possible, and with continued growth make the fund grow. How we've been able to help others in Lynda's memory...Our first year, we were able to help a woman with breast cancer and a young man with a head injury.  The second year, we were able to help a barrel racer who had been in a horse accident and hospitalized for over a month, a barrel racer from Billings who broke her leg, and a young barrel racer facing brain surgery.  The third year, we helped a woman with breast cancer, a young man who had been in a motorcycle accident and was in a wheel chair.   We helped the family of a five year old girl who was kicked in the head by her mother's barrel horse and was in intensive care for her injuries.  This young farming family did not have insurance.  A young man had an auto accident and we were able to help him out in his time of need like he had helped us the previous year  volunteering.  In our fourth year, we helped two breast cancer victims, a team roper who had a serious brain injury following a roping accident, a woman who was the victim of domestic abuse, and another who experienced a horse accident.  All of these people had a great need for help from others, and we were honored to be able to help out. We felt so honored to receive numerous donations in memory of another barrel racer who was lost in 2009, Joyce Arms.  Donations in her memory allowed us to help others.  Joyce was always a great supporter of our event, and I'm sure she would be pleased. Each year we help people with a variety of crisis situations from cancers, serious accidents/injuries, illnesses, and others in need.  We are often humbled by some of the great thank you's that we get.  Over 16 years, we've been blessed enough to donate over $70,000 to those in need.  That total keeps growing as the need is always there. We have been able to help these families with the help of our sponsors and contestants, and we are looking forward to continuing this wonderful work.  We would like to thank anyone who has supported us in the past and hope that those touched by this event continues to grow, both in giving and receiving. We have been touched to see those we have helped in the past show up at our event and want to give back. The tear in the eye of someone we have helped reminds us of Lynda's legacy and why we continue to work at this cause.
Leave a comment
Comments will be approved before showing up.
---
Also in Connolly
Aaron Flint, host of Montana Talks, could only think of two words to describe his flight over Billings, Montana with the U.S. Navy's Blue Angels on Aug 9, 2023, as "unbelievably incredible." Bo Wagner, owner of Connolly Saddlery was honored when Yellowstone International Air Show producer stopped by the store to ask if he could provide 72 cowboy hats for the pilots. It was a feat in and of itself to have all the sizes in stock, but Bo loaded his horse trailer full of hats and delivered them t...
"The values of hard work, integrity and honoring your word were established by the cowboys settling Wyoming," said Senator Lummis. "Cowboys have a legendary history and thriving culture today thanks to the modern ranchers, ropers and riders who saddle up each day and carry on the tradition.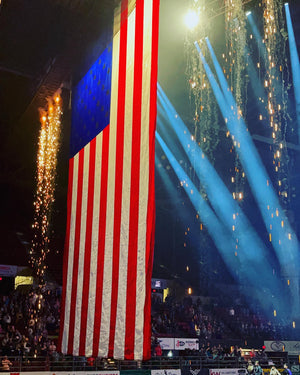 The week of July 4th, known as 'Cowboy Christmas', indicates a very lucrative week full of surprises and elation, tons of rodeos and oodles of money to be won. It's grueling and spectacular at the same time. Gift wrapped in expectations, adrenaline, and money. Even entering these rodeos has a sense of suspense and anticipation. The excitement of finding out when you're up and what stock you draw is like waking up Christmas morning to see what's under the tree!