Legends and Legacy – The Blue Angels
Aaron Flint, host of Montana Talks, could only think of two words to describe his flight over Billings, Montana with the U.S. Navy's Blue Angels on Aug 9, 2023, as "unbelievably incredible."
The Wagner family, owners of Connolly Saddlery were honored when Yellowstone International Air Show producer stopped by the store to see if we could provide 72 cowboy hats for the pilots. It was a feat in itself to have all the sizes in stock! We loaded a horse trailer full to the brim and delivered hats to the S Ranch where these "unbelievably incredible" individuals had the opportunity to ride horses and Be Cowboy.
Hearts swelled with emotion as each pilot got fitted in their American Hat. What a privilege to meet each and everyone. What an inspiration they are. All Bo Wagner could think of was two things: I'm Proud to be an American; I'm Proud to wear an American.
Several of the pilots stopped by the store the next day wearing their hats and shared stories about what being a Blue Angel is like. It's mind-blowing to think about, but the jets will be within 18 inches of each other during the Diamond 360 maneuver. The highest vertical roll is up to 15,000 feet while the lowest point is the Sneak Pass, as low as 50 feet above the ground. The top speed is just under Mach2, nearly twice the speed of sound, or about 1,400 mph. The maximum climb rate is 30,000 ft per minute, which is around 10 seconds per mile.
The mission of the Blue Angels is to showcase the teamwork and professionalism of the United States Navy and Marine Corps through flight demonstrations and community outreach while inspiring a culture of excellence and service to country. The hope is that tomorrow's leaders will be encouraged and motivated by what they see in the performance, and all the men and women that make up The Blue Angels.
Indeed, Connolly Saddlery salutes them in a mission well done.
Leave a comment
Comments will be approved before showing up.
---
Also in Connolly
"The values of hard work, integrity and honoring your word were established by the cowboys settling Wyoming," said Senator Lummis. "Cowboys have a legendary history and thriving culture today thanks to the modern ranchers, ropers and riders who saddle up each day and carry on the tradition.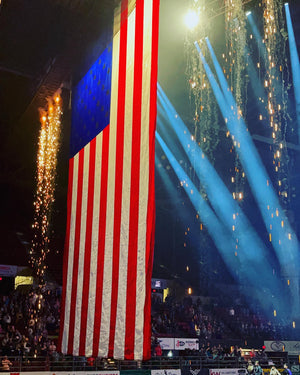 The week of July 4th, known as 'Cowboy Christmas', indicates a very lucrative week full of surprises and elation, tons of rodeos and oodles of money to be won. It's grueling and spectacular at the same time. Gift wrapped in expectations, adrenaline, and money. Even entering these rodeos has a sense of suspense and anticipation. The excitement of finding out when you're up and what stock you draw is like waking up Christmas morning to see what's under the tree!
Looks and feel are significant considerations, but it's what's on the inside that counts. Handcrafted, all-leather boots have a tradition for quality. In an age where computerized assembly and synthetic materials are substituted to cut costs, master bootmakers know that hand-lasted boots, built one pair at a time, define quality. Price isn't always the determiner on what to buy…How long do you want them to last? How comfortable do you want them to feel? 'Handcrafted with pride' are words that...