WHAT TO LOOK FOR WHEN BUYING A BOOT
Looks and feel are significant considerations, but it's what's on the inside that counts. Handcrafted, all-leather boots have a tradition for quality. In an age where computerized assembly and synthetic materials are substituted to cut costs, master bootmakers know that hand-lasted boots, built one pair at a time, define quality. Price isn't always the determiner on what to buy…How long do you want them to last? How comfortable do you want them to feel? 'Handcrafted with pride' are words that portray a comfortable, durable, and repairable boot to be worn for a lifetime. It adds up to a boot you can wear all day without batting an eye.
How a pair of boots fit matters. There're several things to consider in finding the right fit, but most people will tell you one thing off the bat – "it should fit like a firm handshake." This is in reference to the snugness across your instep. The ball of your foot should sit exactly in the widest part of the sole. That is how you ensure your toes are positioned correctly – not too far back, not too far forward.  Beyond that, your heel should feel lifted in the back of the boot when walking. Up to half an inch of slippage is okay and to be expected; that'll go away as the boots mold to your feet. Make sure when you pull the boots on for the first time, you give them a little tug. If you don't feel a 'pop' noise when putting them on, there's a good chance they may be too big.
What purpose will your new boots serve? Determining whether you're going for function, fashion, or a combination of both will go a long way in narrowing down your options. Alongside purpose, several factors come into play when you're thinking about style, including leather type, sole type, and toe style. Once you know what purpose your boots will serve, choosing a practical leather will be easier. Cowhide is the most popular material used for boots due to its durability, flexibility, and cost effectiveness. Ostrich is a popular exotic leather known for its softness, breathability, and flexibility. Many believe ostrich is the best bang for your buck. Goat achieves a balance between luxury and better value, while Python's rising popularity in the exotic category makes it a great choice for those seeking a unique leather pattern. With options like lizard, Nile crocodile, American alligator, buffalo, bison, and bull hide there's something for everyone. Be advised, some types of leather tend to stretch and mold to your feet over time. Ostrich, goat, cowhides, and suedes tend to conform better to the foot. Reptile skins do not share the same elasticity traits, so be sure to take that into consideration when deciding which leather type is right for you.
Function matters: Leather vamps, leather soles, stacked leather heels, cowhide lining, and steel shanks are traditional signs of a quality boot. The varied activities of seasoned boot wearers require styles designed for dress, riding, and ranch wear. Some styles may feature spur heels, or other functional elements. For appeal, stitch patterns colorfully accentuate vamp hues for an impeccable finish.
Master bootmakers, R Watson Boots, share their expertise to help you choose the perfect pair to suit your needs:
Cowhide lining vs. synthetic materials provides more body to the boot which means a more comfortable and durable fit for you. This is something you probably would not notice up front when buying a boot, but overtime, down the road, a quality lining doesn't break down and continues to give support and comfort.
Just like a house, the foundation of a boot is important. A 10-iron genuine leather outsole provides just enough flex for the comfort all boot enthusiasts' desire. The sole is channel stitched to the boot to keep sole stitching from being exposed to the elements. This attention to detail provides a product that will last.
Custom leather welts and rands offer a classic finish that will stand the test of time.
Wood pegs and brass nails ensure that when conditions change (wet or dry, hot or cold) this hardware is built to change with it and keep the sole attached to the boot.
All leather heels and heel counters last longer than heels that have a mix of synthetic materials in them. Think of a real wood board versus particle board. The real stuff provides longevity and won't breakdown.
Solid steel shank arch support gives stability and durability incorporated into a one-piece insole system so you will never get that dreaded squeak. Plastic shanks weaken with wear and soften with heat exposure.
Each boot has a comfort system which consists of layered padding from front to back with a leather top lining that allows for maximum comfort. No more heel covers peeling back when you take your foot out.
'Made with pride; finely crafted'. That's what you want to look for when buying a cowboy boot. Wear them for fashion, function, and comfort. Treasure them for a lifetime.
Leave a comment
Comments will be approved before showing up.
---
Also in Connolly
Aaron Flint, host of Montana Talks, could only think of two words to describe his flight over Billings, Montana with the U.S. Navy's Blue Angels on Aug 9, 2023, as "unbelievably incredible." Bo Wagner, owner of Connolly Saddlery was honored when Yellowstone International Air Show producer stopped by the store to ask if he could provide 72 cowboy hats for the pilots. It was a feat in and of itself to have all the sizes in stock, but Bo loaded his horse trailer full of hats and delivered them t...
"The values of hard work, integrity and honoring your word were established by the cowboys settling Wyoming," said Senator Lummis. "Cowboys have a legendary history and thriving culture today thanks to the modern ranchers, ropers and riders who saddle up each day and carry on the tradition.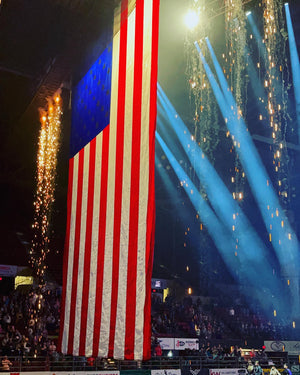 The week of July 4th, known as 'Cowboy Christmas', indicates a very lucrative week full of surprises and elation, tons of rodeos and oodles of money to be won. It's grueling and spectacular at the same time. Gift wrapped in expectations, adrenaline, and money. Even entering these rodeos has a sense of suspense and anticipation. The excitement of finding out when you're up and what stock you draw is like waking up Christmas morning to see what's under the tree!