What Kind of Cinch Should You Use?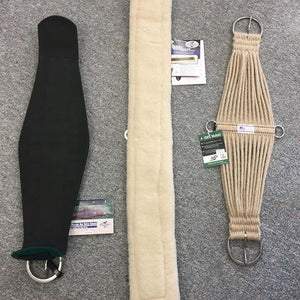 What Kind of Cinch Should You Use?
If you own a saddle, you own a cinch!
The most common materials for a cinch are mohair; neoprene; and wool felt or fleece.
Fleece has the softest feel but is the hardest to care for.  The initial appearance seems very comfy and cozy, however, fleece is difficult to keep burrs out of and it tends to pack down with sweat and dirt.  Washing can help, but the original look and feel never returns.  
Felt is okay, but it can stretch, tear or separate.  The higher the grade of the wool content the better.   Its greatest attribute is that 100% virgin wool can wick 20X its weight in moisture, which removes heat and keeps your horse comfortable. 
Neoprene has more grip and is the easiest to clean, but it doesn't dissipate heat and moisture as well as natural fibers. 
Mohair is the most traditional and the most versatile material.  It naturally wicks moisture and heat away from your horse.  It has natural elasticity to expand and return to its original size over and over.  This means your horse can breathe and move and your saddle stays in place.
Each type of cinch has its own strengths and weaknesses. Every rider must decide what works best for them and their horse.  
Leave a comment
Comments will be approved before showing up.
---
Also in Connolly
Aaron Flint, host of Montana Talks, could only think of two words to describe his flight over Billings, Montana with the U.S. Navy's Blue Angels on Aug 9, 2023, as "unbelievably incredible." Bo Wagner, owner of Connolly Saddlery was honored when Yellowstone International Air Show producer stopped by the store to ask if he could provide 72 cowboy hats for the pilots. It was a feat in and of itself to have all the sizes in stock, but Bo loaded his horse trailer full of hats and delivered them t...
"The values of hard work, integrity and honoring your word were established by the cowboys settling Wyoming," said Senator Lummis. "Cowboys have a legendary history and thriving culture today thanks to the modern ranchers, ropers and riders who saddle up each day and carry on the tradition.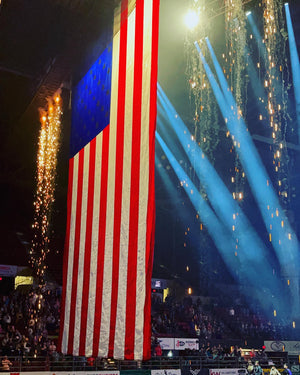 The week of July 4th, known as 'Cowboy Christmas', indicates a very lucrative week full of surprises and elation, tons of rodeos and oodles of money to be won. It's grueling and spectacular at the same time. Gift wrapped in expectations, adrenaline, and money. Even entering these rodeos has a sense of suspense and anticipation. The excitement of finding out when you're up and what stock you draw is like waking up Christmas morning to see what's under the tree!