Importance of Warming your Horse Up
When you first get on, warm your horse up for a few minutes at a walk.  Consciously evaluate how your horse is feeling.  Is he tense, relaxed, stiff...anything out of the ordinary...does he seem normal or does he feel off...
Get to know your Horse!
Twenty minutes is a suitable warm up.  Some horses take more, some less.   Incorporate in your warm up transitions from a walk to a trot to a lope.
Round circles are a big deal. Again, start at a walk, then trot, then lope and vary the diameter from large to small, small to large. The bend of a round circle stretches the rib and neck. 
If your situation permits and you can go up and down inclines, this stretches the loin, back and hind end.  Moving your horse laterally, left and right in an S shape, stretches the shoulders, ribs and hip. A low obstacle that you can step over stretches and strengthens the loin. 
The warm up is for the rider and horse. Everything is about suppleness and flexibility.
Practice putting weight on the ball of your feet, roll your hips, round your back, tighten thighs and gluts. Put minimal weight on your seat.
Ride "with" your horse. There are three positions of posture: ahead of your horse, with your horse and behind your horse. Strive to be "with" your horse, a centered position with you in the middle keeping your horse right between your legs.  
Keep hands low, elbows in. Get forward motion by squeezing him forward, tightening your thigh muscles and tightening your gluts.  This lifts you up and brings up life in your horse.
To stop, relax your thighs, roll your back and melt into the seat as you move your feet slightly forward with heels down.
These subtle moves communicate your intentions to your horse.  By using these same motions everyday, in every warmup, they become habit for you and your horse responds out of habit also, reiterating the Importance of your Warm Up.
Leave a comment
Comments will be approved before showing up.
---
Also in Connolly
Aaron Flint, host of Montana Talks, could only think of two words to describe his flight over Billings, Montana with the U.S. Navy's Blue Angels on Aug 9, 2023, as "unbelievably incredible." Bo Wagner, owner of Connolly Saddlery was honored when Yellowstone International Air Show producer stopped by the store to ask if he could provide 72 cowboy hats for the pilots. It was a feat in and of itself to have all the sizes in stock, but Bo loaded his horse trailer full of hats and delivered them t...
"The values of hard work, integrity and honoring your word were established by the cowboys settling Wyoming," said Senator Lummis. "Cowboys have a legendary history and thriving culture today thanks to the modern ranchers, ropers and riders who saddle up each day and carry on the tradition.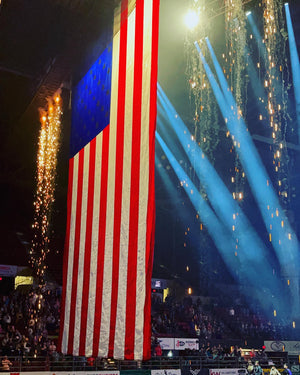 The week of July 4th, known as 'Cowboy Christmas', indicates a very lucrative week full of surprises and elation, tons of rodeos and oodles of money to be won. It's grueling and spectacular at the same time. Gift wrapped in expectations, adrenaline, and money. Even entering these rodeos has a sense of suspense and anticipation. The excitement of finding out when you're up and what stock you draw is like waking up Christmas morning to see what's under the tree!