Things That Impact Your Life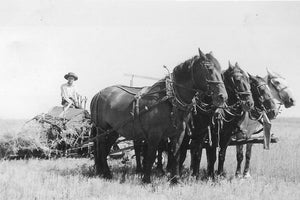 I love this picture of a team of horses working together to get a job done.  Not a matching team, yet the significance is that they were united in their goal.  Differences made them stronger, but an equal yoke was paramount.  Work was empowered with purpose.  
The Binder tied the oats together, just like a Dad binds a family together. Everyone has a purpose; everyone is needed to make the whole family complete. That's how it works!  Nobody is insignificant, big or small.  I couldn't drive the team, that was Dad's job; but I remember stacking shocks of oats taller than me.  I remember the awe of watching those shocks eaten by the threshing machine and spit out as small kernels of grain.  That small grain was lifeblood.  Its impact was tremendous.  Horses ate it whole; cows ate it made into a cake; and we ate it for breakfast.
Being "itchy" from the chaff was the worst, but I don't remember ever crying about it, it just was!  When you are small getting to help means a lot.  Being part of the family is important.  Our family was as diverse as this team of horses, all sizes, shapes, and ages.  Yet Dad and Mom bound us together as one.
Eventually we all grew up and went separate directions.  But the nucleus that bound us never dissipated.
Hard work was cherished because of the fruits.  Teamwork was understood. Leadership was recognized as essential to a well-rounded healthy, balanced lifestyle. Character was treasured as an individual quality.  Significance was given to all.
Leave a comment
Comments will be approved before showing up.
---
Also in Connolly
Aaron Flint, host of Montana Talks, could only think of two words to describe his flight over Billings, Montana with the U.S. Navy's Blue Angels on Aug 9, 2023, as "unbelievably incredible." Bo Wagner, owner of Connolly Saddlery was honored when Yellowstone International Air Show producer stopped by the store to ask if he could provide 72 cowboy hats for the pilots. It was a feat in and of itself to have all the sizes in stock, but Bo loaded his horse trailer full of hats and delivered them t...
"The values of hard work, integrity and honoring your word were established by the cowboys settling Wyoming," said Senator Lummis. "Cowboys have a legendary history and thriving culture today thanks to the modern ranchers, ropers and riders who saddle up each day and carry on the tradition.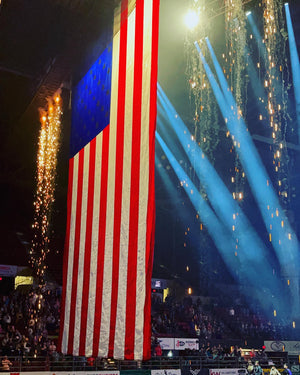 The week of July 4th, known as 'Cowboy Christmas', indicates a very lucrative week full of surprises and elation, tons of rodeos and oodles of money to be won. It's grueling and spectacular at the same time. Gift wrapped in expectations, adrenaline, and money. Even entering these rodeos has a sense of suspense and anticipation. The excitement of finding out when you're up and what stock you draw is like waking up Christmas morning to see what's under the tree!