'The One'
When you realize the horse you have may be 'the one', what's next? 
Everything has a process. Learn to stride with that process. There is a time of personal growth ahead if you are going through a time of discouragement! Keep in contact with books and people that enlarge your horizon and make it possible for you to stretch yourself. Do not be guided by impulse. Be directed by reality.
You can be right in your perception, with a vision and clear understanding of what you want to do. However, when you start to do it, in reality, there will be times of disappointment and setbacks. That's when you tremble and think: "Who am I to do this?" "Can I do this?"
'The one' means different things to different people. It can simply be the one that you have right now; Or it can mean the one that is showing the most potential out of several horses you are riding. You just have that feeling. It's exciting to think of what might be accomplished. It's a moment of pride.
The dictionary definition of pride can be negative with connotations of arrogant, conceited, and overbearing behavior. Don't be that. That brings out the worst in you.
Pride, in its positive sense, is that quiet feeling of competence that lies behind one's ability to do what has to be done, feeling confident that you can do it. Be proud of your aspirations. Believe in yourself. Keep a positive attitude. Let it bring out the best in you.
Leave a comment
Comments will be approved before showing up.
---
Also in Connolly
Aaron Flint, host of Montana Talks, could only think of two words to describe his flight over Billings, Montana with the U.S. Navy's Blue Angels on Aug 9, 2023, as "unbelievably incredible." Bo Wagner, owner of Connolly Saddlery was honored when Yellowstone International Air Show producer stopped by the store to ask if he could provide 72 cowboy hats for the pilots. It was a feat in and of itself to have all the sizes in stock, but Bo loaded his horse trailer full of hats and delivered them t...
"The values of hard work, integrity and honoring your word were established by the cowboys settling Wyoming," said Senator Lummis. "Cowboys have a legendary history and thriving culture today thanks to the modern ranchers, ropers and riders who saddle up each day and carry on the tradition.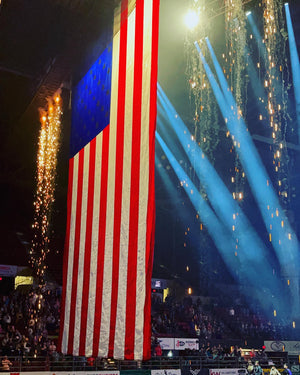 The week of July 4th, known as 'Cowboy Christmas', indicates a very lucrative week full of surprises and elation, tons of rodeos and oodles of money to be won. It's grueling and spectacular at the same time. Gift wrapped in expectations, adrenaline, and money. Even entering these rodeos has a sense of suspense and anticipation. The excitement of finding out when you're up and what stock you draw is like waking up Christmas morning to see what's under the tree!