The Genius of How Horses Stay Warm
Horses and humans both generate their own body heat because they are warm-blooded. But horses have extra features that humans do not.  Horses possess a highly effective thermoregulation system that lets their hair coat stand up and trap body heat to create an insulating layer.  Horses have very dense, thick hair, so it is quite effective. 
They also have water-repelling natural oils in their hair.  Horses rely on these oils to prevent their skin from getting wet.  A convincing reason for why you should not bathe a horse or over-groom them!  A brush drags the oils through the coat.  This makes it is shiny in summer; however, in winter horses need these oils near their skin to act as a protective barrier to help it shed moisture. 
There is a temptation to blanket horses to keep them warm. However, a blanket flattens the horse's hair and takes away that natural insulating layer.  It is possible that a blanket can cause a horse to be colder. 
Hair coat is a horses external heater.  They also have an internal heater; their hindgut is a furnace because this is where forage is digested. Heat is produced through the digestion process of microbial fermentation.  Keeping the digestive tract full helps a horse have a constant source of heat energy.  It is like having an extra-large wood-burner stove in their stomach!
Remember, even if people feel cold, horses can be perfectly comfortable because of these extra features.
Leave a comment
Comments will be approved before showing up.
---
Also in Connolly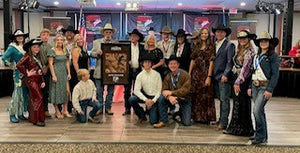 From the age of 8, PRCA Gold Card holder, Dave Wagner began accumulating buckles and saddles competing in timed-event and rough stock anywhere he could find to enter. He didn't care what event it was. He just liked to win. Junior and Youth rodeos blended into High School rodeos, then College rodeos, and onto Open and Amateur rodeos. In 1975, at age 24, Dave got his Pro card, deciding to focus on bull riding. That decision produced 5 Montana Pro Rodeo Circuit Championships -1976, 77, 78, 79, a...
Aaron Flint, host of Montana Talks, could only think of two words to describe his flight over Billings, Montana with the U.S. Navy's Blue Angels on Aug 9, 2023, as "unbelievably incredible." Bo Wagner, owner of Connolly Saddlery was honored when Yellowstone International Air Show producer stopped by the store to ask if he could provide 72 cowboy hats for the pilots. It was a feat in and of itself to have all the sizes in stock, but Bo loaded his horse trailer full of hats and delivered them t...
"The values of hard work, integrity and honoring your word were established by the cowboys settling Wyoming," said Senator Lummis. "Cowboys have a legendary history and thriving culture today thanks to the modern ranchers, ropers and riders who saddle up each day and carry on the tradition.