The Best of All Worlds
I love horses.  I love riding.  I love learning. Every time I ride a horse, I learn something, so it's the best of all worlds!
Riding is challenging and fulfilling no matter where you are --on the ranch; on the trail; or in the arena.
Barrel racing is my favorite thing to do.  A barrel horse has the speed of a race horse and the agility of a reining or cutting horse. 
What makes the barrel horse unique is his ability to perform with both longitudinal suppleness (back to front) and lateral suppleness (side to side).  Quick bursts of speed alternate with 360 degree turns, coalescing power, rhythm, and balance into an unequalled display of athleticism.  
It is a science and an art.  This concert of integral moves performed at high speed produces an adrenaline rush of accomplishment unmatched by any other sport.  
Any kind of involvement with horses is a healthy endeavor that can be pursued indefinitely. 
Barrel Racing, with the advent of the 3D format, surpassed expectations because it gave horse and rider the ability to pursue excellence, feel the rush, even if not at the very top tier of competitors.  One never knows when that top tier breakthrough will come, maybe today, maybe never, but you can win something now, at the level you are and feel good about your progress in the process.
Most important is the fact that you are riding, learning and loving it!   
Leave a comment
Comments will be approved before showing up.
---
Also in Connolly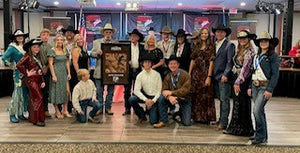 From the age of 8, PRCA Gold Card holder, Dave Wagner began accumulating buckles and saddles competing in timed-event and rough stock anywhere he could find to enter. He didn't care what event it was. He just liked to win. Junior and Youth rodeos blended into High School rodeos, then College rodeos, and onto Open and Amateur rodeos. In 1975, at age 24, Dave got his Pro card, deciding to focus on bull riding. That decision produced 5 Montana Pro Rodeo Circuit Championships -1976, 77, 78, 79, a...
Aaron Flint, host of Montana Talks, could only think of two words to describe his flight over Billings, Montana with the U.S. Navy's Blue Angels on Aug 9, 2023, as "unbelievably incredible." Bo Wagner, owner of Connolly Saddlery was honored when Yellowstone International Air Show producer stopped by the store to ask if he could provide 72 cowboy hats for the pilots. It was a feat in and of itself to have all the sizes in stock, but Bo loaded his horse trailer full of hats and delivered them t...
"The values of hard work, integrity and honoring your word were established by the cowboys settling Wyoming," said Senator Lummis. "Cowboys have a legendary history and thriving culture today thanks to the modern ranchers, ropers and riders who saddle up each day and carry on the tradition.