Our Signature
To put your brand on something means you are proud to show everyone that you own it.
My Dad was fanatical about putting his brand on everything.  He was proud of what he owned.  It was his trademark.  Even today, twenty some years after he has passed away, people know his brand and remember him whenever they see it.
I read an editorial about how Costco created the Kirkland Signature line some 20 years ago when private-label products carried a stigma – they were seen as lower quality offshoots of popular brands. 
Costco went a different direction. They developed a product that was as good as or better than a national brand, at the lowest possible price. 
The focus was on newness, continual improvement and smart sourcing.   They knew where things came from, who was involved in the supply chain, and the conditions under which it was produced.  That was essential to guarantee quality, safety and sustainability. 
They wanted to ensure their customer got an excellent product at a great price. 
When Connolly's puts its name on something, we want our customer to know they are getting an excellent product at a great price.
We take pride in the fact that when we stock an item in our store, it means we have vetted that product.  We know where it's made and how it's made.
The important litmus test; however, is when the product is your own. 
We don't just vet the product; we make the product. It's not only our stamp of approval – it's ours.  We own it.  It's our Brand.  We don't take that lightly. 
Our Brand is a forever thing.
We are committed to Quality.
Leave a comment
Comments will be approved before showing up.
---
Also in Connolly
Aaron Flint, host of Montana Talks, could only think of two words to describe his flight over Billings, Montana with the U.S. Navy's Blue Angels on Aug 9, 2023, as "unbelievably incredible." Bo Wagner, owner of Connolly Saddlery was honored when Yellowstone International Air Show producer stopped by the store to ask if he could provide 72 cowboy hats for the pilots. It was a feat in and of itself to have all the sizes in stock, but Bo loaded his horse trailer full of hats and delivered them t...
"The values of hard work, integrity and honoring your word were established by the cowboys settling Wyoming," said Senator Lummis. "Cowboys have a legendary history and thriving culture today thanks to the modern ranchers, ropers and riders who saddle up each day and carry on the tradition.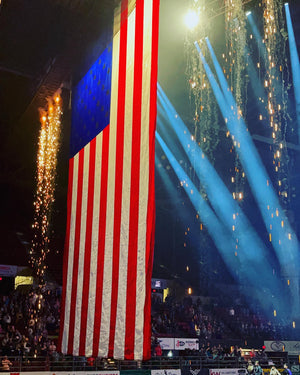 The week of July 4th, known as 'Cowboy Christmas', indicates a very lucrative week full of surprises and elation, tons of rodeos and oodles of money to be won. It's grueling and spectacular at the same time. Gift wrapped in expectations, adrenaline, and money. Even entering these rodeos has a sense of suspense and anticipation. The excitement of finding out when you're up and what stock you draw is like waking up Christmas morning to see what's under the tree!