First Barrel Race jeeters
You're going to your first Barrel Race.  Your excitement is nearly uncontainable! 
As you pull into the grounds, a not so unusual thought is, "I'm here, I'm so excited!  And then it hits you...now what should I do"?
When you get to your event do a once over of your horse's general condition-legs, disposition and manner.  Check out your equipment, anything you are going to use that day- saddle, pad, leg gear, bridle, reins, etc.  Check your clothing- hat, boots and shirt.  These are the essentials you need for a successful run; don't wait until the last minute to check these things out.  It's nerve-wracking and a potential disaster to find out your bridle isn't in the trailer!
Check in at the Office.  Find out what number you are; pay your fees; find out the order of events so you can determine when to start your warm up. 
Ride in the arena if possible to let your horse see the sights and feel the ground conditions.  If your horse is novice, exhibition runs can give you added experience.
Check out the arena; know the set up.  How long is the alley; What's the distance and approach to the 1st barrel.  Where are the barrels going to be set?  How far off the fence are they?  Is the gate open or closed?  Where is my rate point, turn point, and drive point on each barrel?  Make your Game Plan.  In the infamous words of World Champion Lynn McKenzie-"Plan the Run; Run the Plan"
Leave a comment
Comments will be approved before showing up.
---
Also in Connolly
Aaron Flint, host of Montana Talks, could only think of two words to describe his flight over Billings, Montana with the U.S. Navy's Blue Angels on Aug 9, 2023, as "unbelievably incredible." Bo Wagner, owner of Connolly Saddlery was honored when Yellowstone International Air Show producer stopped by the store to ask if he could provide 72 cowboy hats for the pilots. It was a feat in and of itself to have all the sizes in stock, but Bo loaded his horse trailer full of hats and delivered them t...
"The values of hard work, integrity and honoring your word were established by the cowboys settling Wyoming," said Senator Lummis. "Cowboys have a legendary history and thriving culture today thanks to the modern ranchers, ropers and riders who saddle up each day and carry on the tradition.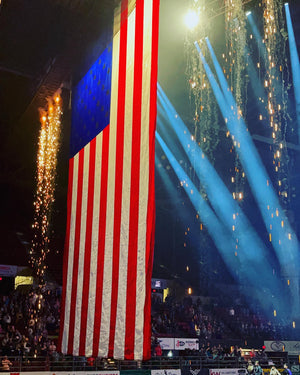 The week of July 4th, known as 'Cowboy Christmas', indicates a very lucrative week full of surprises and elation, tons of rodeos and oodles of money to be won. It's grueling and spectacular at the same time. Gift wrapped in expectations, adrenaline, and money. Even entering these rodeos has a sense of suspense and anticipation. The excitement of finding out when you're up and what stock you draw is like waking up Christmas morning to see what's under the tree!