LEGENDS AND LEGACY SERIES - R. WATSON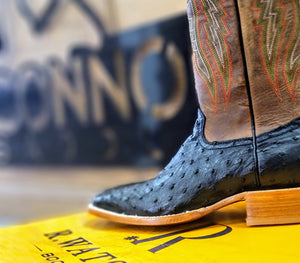 Connolly Saddlery, in its 111th year of business, carries on its original promise of providing customers quality products and honesty about what it's selling.
Nothing is more convincing than the simple unembellished word of a satisfied customer. "I got a pair of these last week, and they are the most comfortable boots I have ever owned in my life. They are awesome. Fit like a glove from day 1!!!"
We provide expertise and customers decide if it's what they need and they tell us why. We like people to feel cared for. More than once a customer has returned with friends for us to help them too!  Reputation is important. Customers trust us to treat the people they care about as if they were our own family. At Connolly's heritage is precious, but integrity means everything.
When we met Randy and Ryan Watson and visited R.Watson Boots we found these same qualities abound as they launch a new boot line with the family name on it. "It's not business – It's personal, at R.Watson, we are called to pass on our rich heritage to future generations."
The definition of legacy is something that is passed on to you from family, including reputation. A legacy captures your life and the lessons learned along the way; it celebrates things that were most important to you, such as a cause or an interest.  A lasting legacy means that you share these deeper meanings with friends, family, and posterity.
The Birth of a Boot Brand with My Name On It, by Randy Watson:
After my studies at U of H, it was 1980 and time to get a job. The summer of 1980 was hot, even by Texas' standards, so I was grateful to be working inside with air condition at Don's Western Wear in Houston. But, in hindsight, it was truly a blessing to be working with the smell of leather. The unique fragrance of pristine leather was intoxicating for me; and to be honest, my life-long love affair for an all-leather boot became a reality for me on the floor of Don's. My job beginnings were simple. I started by helping customers find the perfect fit and style of a western boot. Western boots had become very popular, and somewhat overnight. You see, we were a stone's throw away from Gilley's – the wildly successful and soon to be famous honky-tonk. Not a bad place to be during the time of the newest theater hit, 'Urban Cowboy'. Every person, regardless of their background, upbringing, job, lifestyle, age, gender, etc., wanted a pair of western boots.
My time with customers on the sales floor quickly gave me the experience for Don's to promote me to store manager. In that role, I began to order boots for the retail store, and that meant trips to attend 'market'. It was there I was able to develop lifelong memories and relationships with people like Tony Lama, Jr.; Ms. Enid Justin of Nocona Boots; Sam Lucchese and his masters; Gilbert and Jessie Garcia; and last but not least, Mr. John Justin, Jr.
Perhaps the world's greatest boot maker was Charles Schuler of Justin Boots. One of the things that separated Charles from the others, is he could look at a boot, walk straight to one single machine out of a hundred and know what screw to adjust. These boot brands had REAL people with a REAL, genuine passion for the art of boot making back then. This passion, and the attention to detail, is something that has become almost neglected in today's boot business. Along with these tremendous boot makers were incredible sales divisions with decades of experience and insight. Those sales teams, coupled with the great retailers, taught me so much…and it's that insight I still use each and every day.
"I thank the Lord I have had the honor to meet and work beside the greatest boot makers, sales teams and retailers in the industry. I pray that I can pull the best aspects from each experience and create the genuine article at a tremendous value. These incredible relationships – boot makers, sales teams, retailers, etc. – have taught me, and instilled in me to work hard, create a keepsake, and approach every day with a servant's heart. God bless this journey…"
For 40 years, Randy Watson has been a giant in the boot business. He's led companies like Justin, Lucchese, Tony Lama, and Nocona. He developed personal relationships with factories that pour generations of experience into creating hand-crafted works of art, he's worked side-by-side with leather suppliers around the world to source only the highest quality materials, and he's learned the value of partnering with retailers to ensure the right product gets delivered at the right time.
Shortly after Randy retired something incredible happened. One after another – vendors, retail partners, and factories all personally reached out to Randy – wanting the opportunity to work with him again. To make something great with him.

Armed with decades of experience at the highest level, long-lasting relationships in the industry, and a genuine love for the outdoors and the western lifestyle – Randy set out on a mission… to make boots he'd be proud to put his own name on.
Randy shifted his focus to people he could trust to deliver, and the people he wanted to work with most…his family. He teamed up with his son Ryan and a small band of long-time friends and experts in the field to form R.Watson Boots-a small family owned and operated business in Crowley,TX. Randy believes this focus on REAL people pouring their souls into passing down their heritage is incredibly important – now more than ever.
Randy's son, Ryan thrives on creating a culture where dreams and ideas turn into reality. He's the analytical mind that lives to turn theory into reality, and loves being a part of a team with endless opportunities and common goals. "We want to create an opportunity for anyone who wants to be part of something special. Something that not only impacts the lives of consumers, but also our retail partners, our communities, and our industry as well. The journey has already been a blessing, and I can't wait to show the world what we have in store."
Connolly's is pleased to partner with this company, as we continue our legacy, and they build theirs.
Leave a comment
Comments will be approved before showing up.