Iconic Cowboy Symbol – The American Cowboy Hat
Cowboy symbols represent the cowboy spirit of independence and self-reliance. A cowboy lives what he believes and does not worry about conforming to anyone's mold. Cowboys have substance, strength, and courage. Hats, boots, spurs, saddles, and horses are symbols of the culture and evidence hard work, horsemanship, and individualism. The cowboy spirit preserves the principles our country was founded upon. Cowboy stories capture situations, motivations, and outcomes. Their stories have a profound impact, engaging us emotionally, building trust and inspiring us to action ourselves.
The cowboy hat, recognizable throughout the world, portrays an imaginative story before one even knows the person wearing it. Cowboys and Indians magazine told a story about Keith Maddox of American Hat Company. Maddox recalled, "I was checking into the Marriott Marquis in New York City when the front desk clerk admired my hat and commented on it." The clerk asked if I'd like an upgrade, and of course I replied, 'Yes, that would be nice.' As he was typing on the computer, he said, 'Mr. Maddox, you're going to call me in about 15 minutes and thank me.' When I found my room, it was a beautiful suite with three separate entrances and a great view — thanks to my hat!"
When Maddox bought American Hat Company he brought the company's history with him, including the priceless, almost-century-old equipment and hat blocks — and a certain longtime employee named Andre Trevino. The story goes that when he was 12, Trevino saw a bag in the company's parking lot. It was a bag of money that belonged to Bubba Silver. Trevino picked up the bag, walked it into the building, and returned it. "I don't want a reward," Trevino told Silver, "I want a job."  Maddox believed in cowboys and all they stand for. He devoted his life to the art of the cowboy hat. "We make hats the way they were made years ago. We don't skip any steps or cut any corners."
His story embodies why the cowboy hat is an important cowboy symbol and continues to be an icon of The Cowboy and His Hat.
Leave a comment
Comments will be approved before showing up.
---
Also in Connolly
Aaron Flint, host of Montana Talks, could only think of two words to describe his flight over Billings, Montana with the U.S. Navy's Blue Angels on Aug 9, 2023, as "unbelievably incredible." Bo Wagner, owner of Connolly Saddlery was honored when Yellowstone International Air Show producer stopped by the store to ask if he could provide 72 cowboy hats for the pilots. It was a feat in and of itself to have all the sizes in stock, but Bo loaded his horse trailer full of hats and delivered them t...
"The values of hard work, integrity and honoring your word were established by the cowboys settling Wyoming," said Senator Lummis. "Cowboys have a legendary history and thriving culture today thanks to the modern ranchers, ropers and riders who saddle up each day and carry on the tradition.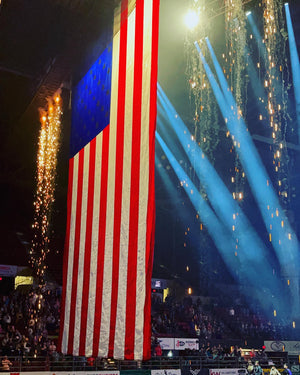 The week of July 4th, known as 'Cowboy Christmas', indicates a very lucrative week full of surprises and elation, tons of rodeos and oodles of money to be won. It's grueling and spectacular at the same time. Gift wrapped in expectations, adrenaline, and money. Even entering these rodeos has a sense of suspense and anticipation. The excitement of finding out when you're up and what stock you draw is like waking up Christmas morning to see what's under the tree!