How Personal is your Hat?
Chris Ledoux sang about and expressed the down-deep gut-feeling cowboys have about their hats in his song "This Cowboy's Hat".
"You'll ride a black tornado, cross the western sky,
Rope an ol' Blue Northern ,and milk it till its dry,
Bulldog the Mississippi, and pin its ears down flat,
Long before you take this Cowboys Hat!
Now, partner, this ol' hats better left alone…
And if you touch my hat, your gonna have to fight…"
Those are specific, distinct thoughts and feelings. 
So why does this iconic symbol evoke such emotion?  Why are hats so personal?
Because your hat is an extension of who you are…Ledoux's lyrics tell you about his hat and you gain insight into his life. 
"…see it used to be my daddy's, but last year he passed on, my nephew skinned the rattler that makes up this hat band, but back in 69' he died in Vietnam.  Now the eagle feather was given to me by an old Indian friend of mine, someone ran him down somewhere around that Arizona line, and a real special lady gave me this hat pin, but I don't know if I'll ever see her again…"
Hats are personal and demand respect because every cowboy and every hat have a story.  Next time you see someone with "their" hat on, wonder about the story behind that hat!
Leave a comment
Comments will be approved before showing up.
---
Also in Connolly
Aaron Flint, host of Montana Talks, could only think of two words to describe his flight over Billings, Montana with the U.S. Navy's Blue Angels on Aug 9, 2023, as "unbelievably incredible." Bo Wagner, owner of Connolly Saddlery was honored when Yellowstone International Air Show producer stopped by the store to ask if he could provide 72 cowboy hats for the pilots. It was a feat in and of itself to have all the sizes in stock, but Bo loaded his horse trailer full of hats and delivered them t...
"The values of hard work, integrity and honoring your word were established by the cowboys settling Wyoming," said Senator Lummis. "Cowboys have a legendary history and thriving culture today thanks to the modern ranchers, ropers and riders who saddle up each day and carry on the tradition.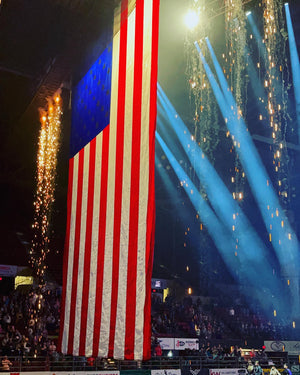 The week of July 4th, known as 'Cowboy Christmas', indicates a very lucrative week full of surprises and elation, tons of rodeos and oodles of money to be won. It's grueling and spectacular at the same time. Gift wrapped in expectations, adrenaline, and money. Even entering these rodeos has a sense of suspense and anticipation. The excitement of finding out when you're up and what stock you draw is like waking up Christmas morning to see what's under the tree!