Her Majesty the Queen
Her Majesty the Queen, who died on September 8, 2022, at the age of 96, was a passionate horse lover. Some of the most iconic images of her reign show her horseback. Queen Elizabeth's very first horse was a Shetland pony named Peggy, given to her at the young age of 4 as a birthday present from her grandfather, King George V.
It's difficult to image being royalty, let alone living that life, but as horse lovers there is a connection regardless of status. Royalty portrays the majesty, beauty, glamour, and awe that a horse projects into the heart of a horse lover. It deserves respect because of its strength and command yet is loved because of its personality.
The Queen had an unbridled passion for horses. Perhaps this sparked her exceptional ability to keep a sense of formality yet connect with people. That same delicate balance exists in a relationship with a horse. A horse must respect its rider and listen to commands yet retain a desire to perform and please.
The Queen's grandfather, His Royal Highness King George V, helped prepare this young girl for the life set before her by giving her a horse. Likewise, many grandparents, whether royalty or not, invest in their grandchildren and the life set before them through this regal animal.  
Leave a comment
Comments will be approved before showing up.
---
Also in Connolly
Aaron Flint, host of Montana Talks, could only think of two words to describe his flight over Billings, Montana with the U.S. Navy's Blue Angels on Aug 9, 2023, as "unbelievably incredible." Bo Wagner, owner of Connolly Saddlery was honored when Yellowstone International Air Show producer stopped by the store to ask if he could provide 72 cowboy hats for the pilots. It was a feat in and of itself to have all the sizes in stock, but Bo loaded his horse trailer full of hats and delivered them t...
"The values of hard work, integrity and honoring your word were established by the cowboys settling Wyoming," said Senator Lummis. "Cowboys have a legendary history and thriving culture today thanks to the modern ranchers, ropers and riders who saddle up each day and carry on the tradition.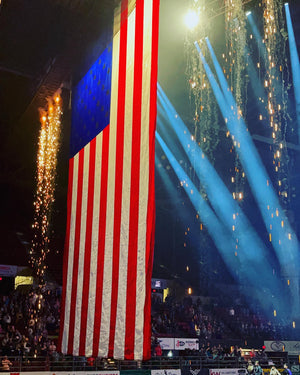 The week of July 4th, known as 'Cowboy Christmas', indicates a very lucrative week full of surprises and elation, tons of rodeos and oodles of money to be won. It's grueling and spectacular at the same time. Gift wrapped in expectations, adrenaline, and money. Even entering these rodeos has a sense of suspense and anticipation. The excitement of finding out when you're up and what stock you draw is like waking up Christmas morning to see what's under the tree!