Fourth of July, 'Cowboy Christmas'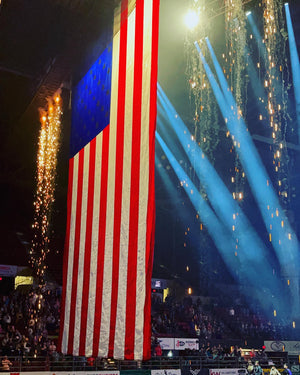 The week of July 4th, known as 'Cowboy Christmas', indicates a very lucrative week full of surprises and elation, tons of rodeos and oodles of money to be won. It's grueling and spectacular at the same time. Gift wrapped in expectations, adrenaline, and money. Even entering these rodeos has a sense of suspense and anticipation. The excitement of finding out when you're up and what stock you draw is like waking up Christmas morning to see what's under the tree!
Used here, the word Cowboy is a universal term of endearment which denotes athletes- men and women, boys and girls- that embody the western rodeo lifestyle. Cowboys endure endless miles on the road and in the air, to get to as many rodeos as they can, with no guaranteed pay, and yes, they consider it a gift and a privilege to get to do this. The wages of a cowboy depend on entering many, many rodeos. In Montana the Gateway Rodeos, indicative of their location at the three entrances to Yellowstone National Park, Red Lodge, Livingston, and Cody offer cowboys a chance to make three in one day. Harlowton, Roundup, Ennis, and Choteau accommodate entries so cowboys can make as many as possible. Trevor Brazile holds the record for the most money earned during Cowboy Christmas at $39.993, set in 2011.
Alongside the adrenaline excitement sits disappointment and exhaustion, but nevertheless, at the end of the week there's a feeling of fulfillment that mirrors the courage it took to try, the tenacity needed to get it done, and the determination, resolve and persistence required. It all boils down to sheer willpower. A sense of accomplishment like none other.
Cowboys epitomize independence. There is no better way to celebrate July 4th, our Independence Day, than by going to a rodeo! God Bless the USA.
Leave a comment
Comments will be approved before showing up.
---
Also in Connolly
Aaron Flint, host of Montana Talks, could only think of two words to describe his flight over Billings, Montana with the U.S. Navy's Blue Angels on Aug 9, 2023, as "unbelievably incredible." Bo Wagner, owner of Connolly Saddlery was honored when Yellowstone International Air Show producer stopped by the store to ask if he could provide 72 cowboy hats for the pilots. It was a feat in and of itself to have all the sizes in stock, but Bo loaded his horse trailer full of hats and delivered them t...
"The values of hard work, integrity and honoring your word were established by the cowboys settling Wyoming," said Senator Lummis. "Cowboys have a legendary history and thriving culture today thanks to the modern ranchers, ropers and riders who saddle up each day and carry on the tradition. 
Looks and feel are significant considerations, but it's what's on the inside that counts. Handcrafted, all-leather boots have a tradition for quality. In an age where computerized assembly and synthetic materials are substituted to cut costs, master bootmakers know that hand-lasted boots, built one pair at a time, define quality. Price isn't always the determiner on what to buy…How long do you want them to last? How comfortable do you want them to feel? 'Handcrafted with pride' are words that...