Focus on the Right Things
You've probably heard that becoming a good athlete is 95% physical and 5% mental. 
The percentages flip flop under the stress of competition.  Success is 95% mental and 5% physical.
That means you must work very hard in practice on your conditioning and physical game.  Once the training and technique are mastered and you move into competition, then you must make sure that you stay calm under pressure and keep yourself focused on the right things.
If you focus on the outcome when you perform, you're probably going to trip and fall.  Instead concentrate on each step, one step at a time, no missteps.
Every ounce of you must be in the moment.  Be laser focused so you respond immediately to the situation that you find yourself in, and are ready to adjust at a moment's notice to sudden and sometimes unexpected changes.
If your mind jumps ahead to the future, i.e., starts thinking about winning or losing or slips back to the past reliving a previous mistake or run, then you'll end up being too uptight and distracted to perform to your potential.
It doesn't mean that your performance will be flawless.  It means that you can rebound quickly from your mistakes and not carry them into the next moment or event.
Laser focus produces confidence, poise, coolness, and certainty.
Leave a comment
Comments will be approved before showing up.
---
Also in Connolly
Aaron Flint, host of Montana Talks, could only think of two words to describe his flight over Billings, Montana with the U.S. Navy's Blue Angels on Aug 9, 2023, as "unbelievably incredible." Bo Wagner, owner of Connolly Saddlery was honored when Yellowstone International Air Show producer stopped by the store to ask if he could provide 72 cowboy hats for the pilots. It was a feat in and of itself to have all the sizes in stock, but Bo loaded his horse trailer full of hats and delivered them t...
"The values of hard work, integrity and honoring your word were established by the cowboys settling Wyoming," said Senator Lummis. "Cowboys have a legendary history and thriving culture today thanks to the modern ranchers, ropers and riders who saddle up each day and carry on the tradition.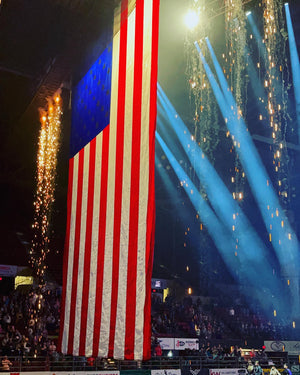 The week of July 4th, known as 'Cowboy Christmas', indicates a very lucrative week full of surprises and elation, tons of rodeos and oodles of money to be won. It's grueling and spectacular at the same time. Gift wrapped in expectations, adrenaline, and money. Even entering these rodeos has a sense of suspense and anticipation. The excitement of finding out when you're up and what stock you draw is like waking up Christmas morning to see what's under the tree!