Be Inspired by the Adventure
Adventures are exciting and remarkable experiences capable of inspiration. They usually involve unknown risks and can even be dangerous.  
In the midst, one might wonder - what will happen?  And often that thought can generate fear which can have an adverse affect on the exciting, remarkable, inspiration aspect of the adventure.
I once read an interesting opinion about fear.  It said,  "Don't be afraid of your fears.  They're there to let you know something is worth it."
That made me wonder:  Does fear have worth?  Is fear valuable? Can it motivate? Can it inspire?
Can it be that Big Life Moments are achieved through fear...by fear...in fear...? 
I remember being told:  Don't be held back from reaching your full potential. Overcome. Do your Best.  Be Positive.  Have Confidence.  Believe in Yourself.  Don't succumb to your fears.
Fear implies loss of courage. An unpleasant emotion that can paralyze.
But an antonym of fear is guts. Guts implies digging deep down inside and mustering up courage that you didn't know you had. Turning your fear into positive energy that gets you moving.
One of John Wayne's quotes describes what having this quality looks like. "Courage is being scared to death but saddling up anyway."  That tells it like it is.  For people that ride horses, every day is an adventure and everyday requires guts and courage!  
Barrel Racing is one of those adventures. Think about the counter balancing forces of gravity, friction, momentum and centrifugal force required so that the horse can negotiate the turn, while maintaining the maximum speed, without having his feet slip out from under him!  
Think about that!  That takes Guts - that's being scared to death and saddling up anyway! 
Why do it?  Because it's an exciting, remarkable experience that inspires us to over come fear,  to achieve big - life - moments.  
Leave a comment
Comments will be approved before showing up.
---
Also in Connolly
Aaron Flint, host of Montana Talks, could only think of two words to describe his flight over Billings, Montana with the U.S. Navy's Blue Angels on Aug 9, 2023, as "unbelievably incredible." Bo Wagner, owner of Connolly Saddlery was honored when Yellowstone International Air Show producer stopped by the store to ask if he could provide 72 cowboy hats for the pilots. It was a feat in and of itself to have all the sizes in stock, but Bo loaded his horse trailer full of hats and delivered them t...
"The values of hard work, integrity and honoring your word were established by the cowboys settling Wyoming," said Senator Lummis. "Cowboys have a legendary history and thriving culture today thanks to the modern ranchers, ropers and riders who saddle up each day and carry on the tradition.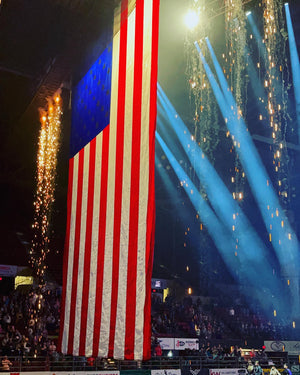 The week of July 4th, known as 'Cowboy Christmas', indicates a very lucrative week full of surprises and elation, tons of rodeos and oodles of money to be won. It's grueling and spectacular at the same time. Gift wrapped in expectations, adrenaline, and money. Even entering these rodeos has a sense of suspense and anticipation. The excitement of finding out when you're up and what stock you draw is like waking up Christmas morning to see what's under the tree!