Cowboy Hats are a Statement
Cowboy Hats are a Statement of all that the Word 'Cowboy' Represents
Legend has it that John B Stetson invented the cowboy hat while entertaining friends on a hunting trip in the 1860's.  He gathered an armful of fur; worked it by hand, kneading it until it was soft and smooth like a piece of cloth.  As a joke he wore it as a hat the rest of the hunting trip but grew fond of it for its protection. 
Creativity birthed the Cowboy Hat, function kept it alive, and today it is the undisputed iconic symbol of the American Cowboy.  There's a code of sorts, given the hat you wear, that links you to a certain type of cowboy.  The movie Lonesome Dove promoted the 'Gus' hat; John Wayne trademarked the rugged, tough, good-guy cowboy; Jim Shoulders was old-style rancher, new style rodeo cowboy; Larry Mahan ushered in the modern cowboy and commercialized a trendy 'Grizzly' look; Ty Murray, known as King of the Cowboys, epitomized traditional rodeo but took it to the next level of a cowboy businessman; JB Mauney branded the Cool Hand Luke bull rider look, popularized by TV coverage of PBR events. 
Every Cowboy Hat has its own unique story and Hat shaping is an art because every individual face and head shape is different.  Each hat must ultimately match that person's personality, profession and profile.  Dave Wagner, owner of Connolly's is a master at customizing your hat just for you.
Leave a comment
Comments will be approved before showing up.
---
Also in Connolly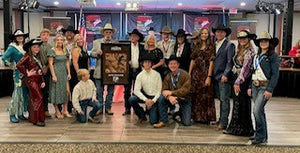 From the age of 8, PRCA Gold Card holder, Dave Wagner began accumulating buckles and saddles competing in timed-event and rough stock anywhere he could find to enter. He didn't care what event it was. He just liked to win. Junior and Youth rodeos blended into High School rodeos, then College rodeos, and onto Open and Amateur rodeos. In 1975, at age 24, Dave got his Pro card, deciding to focus on bull riding. That decision produced 5 Montana Pro Rodeo Circuit Championships -1976, 77, 78, 79, a...
Aaron Flint, host of Montana Talks, could only think of two words to describe his flight over Billings, Montana with the U.S. Navy's Blue Angels on Aug 9, 2023, as "unbelievably incredible." Bo Wagner, owner of Connolly Saddlery was honored when Yellowstone International Air Show producer stopped by the store to ask if he could provide 72 cowboy hats for the pilots. It was a feat in and of itself to have all the sizes in stock, but Bo loaded his horse trailer full of hats and delivered them t...
"The values of hard work, integrity and honoring your word were established by the cowboys settling Wyoming," said Senator Lummis. "Cowboys have a legendary history and thriving culture today thanks to the modern ranchers, ropers and riders who saddle up each day and carry on the tradition.