Cooling your horse down
Does a horse need to be cooled down after a workout?
Like any athlete in a race, the quick exertion of a run requires more oxygen then the body can adequately deliver so the muscles generate a substance called lactate.  Any excess lactate produced turns to lactic acid when the race is over.  By walking your horse, you eliminate the excess lactic acid that could cause sore muscles.
When our bodies perform strenuous exercise, we begin to breather faster as we attempt to shuttle more oxygen to our working muscles.  This aerobic method of generating energy works in most instances.
Some circumstances, however require energy production faster than our bodies can adequately deliver oxygen.  In those cases, the working muscles generate energy anaerobically, which allows glucose breakdown - and thus energy production. Working muscle cells can continue this type of anaerobic energy production at high rates for one to three minutes, during which time lactate can accumulate to high levels. 
Once the body slows down, oxygen becomes available allowing continued aerobic metabolism and energy for the body's recovery from the strenuous event. Walking removes any excess lactic acid that might have accumulated.
This is a very simple explanation of a very complex issue.  Exercise physiologists are actively researching delayed-onset muscle soreness in response to extreme exercise. On-going discussions actively strive for potential prevention and treatment of muscle soreness.
Leave a comment
Comments will be approved before showing up.
---
Also in Connolly
Aaron Flint, host of Montana Talks, could only think of two words to describe his flight over Billings, Montana with the U.S. Navy's Blue Angels on Aug 9, 2023, as "unbelievably incredible." Bo Wagner, owner of Connolly Saddlery was honored when Yellowstone International Air Show producer stopped by the store to ask if he could provide 72 cowboy hats for the pilots. It was a feat in and of itself to have all the sizes in stock, but Bo loaded his horse trailer full of hats and delivered them t...
"The values of hard work, integrity and honoring your word were established by the cowboys settling Wyoming," said Senator Lummis. "Cowboys have a legendary history and thriving culture today thanks to the modern ranchers, ropers and riders who saddle up each day and carry on the tradition.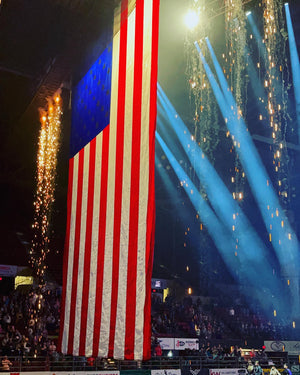 The week of July 4th, known as 'Cowboy Christmas', indicates a very lucrative week full of surprises and elation, tons of rodeos and oodles of money to be won. It's grueling and spectacular at the same time. Gift wrapped in expectations, adrenaline, and money. Even entering these rodeos has a sense of suspense and anticipation. The excitement of finding out when you're up and what stock you draw is like waking up Christmas morning to see what's under the tree!