Bits - Direct Pressure vs Leverage
Bits work with either direct pressure or leverage. Bits that act with direct pressure on the tongue and lips are in the general category of snaffle bits.
Snaffle bits most commonly have a single jointed mouthpiece and act with a nutcracker effect on the bars, tongue and roof of the mouth. However, any bit that operates with direct pressure is a "snaffle" bit, regardless of mouthpiece. Today's snaffle bits often have several joints or links, as with a chain mouthpiece.
Bits that have shanks are in the category of curb bits.  Shanks create leverage that applies pressure to the poll, chin and mouth of the horse.
Traditionally, curb bit mouthpieces were solid without joints, ranging from a straight bar with a slight arch, called a "mullen" mouthpiece, through a "ported" bit that is slightly arched in the middle to provide tongue relief, to the full spade bit which combines both a straight bar and a very high "spoon" or "spade" extension that contacts the roof of the mouth.
Today's curb bits can have single or multiple joints in the mouthpiece combined with various lengths of shanks.  The length of the shank determines the degree of leverage put on the horse's head and mouth. Again, a bit with shanks and leverage is always a "curb" type bit, even when it has a jointed mouthpiece more commonly seen on a snaffle.  Shanked bits require the use of a curb strap for proper action and safe use.
Deciding which bit to use can be a daunting challenge.  Remember what works for one horse and rider might not work for you and your horse.  Each individual horse and rider must be carefully considered.  How sensitive is your horse? Is he hard mouthed or soft?  How sensitive are you?  Do you ride with a light touch on the reins or are you heavy handed?  These are important factors for deciding which bit you should choose.
Leave a comment
Comments will be approved before showing up.
---
Also in Connolly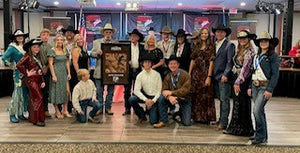 From the age of 8, PRCA Gold Card holder, Dave Wagner began accumulating buckles and saddles competing in timed-event and rough stock anywhere he could find to enter. He didn't care what event it was. He just liked to win. Junior and Youth rodeos blended into High School rodeos, then College rodeos, and onto Open and Amateur rodeos. In 1975, at age 24, Dave got his Pro card, deciding to focus on bull riding. That decision produced 5 Montana Pro Rodeo Circuit Championships -1976, 77, 78, 79, a...
Aaron Flint, host of Montana Talks, could only think of two words to describe his flight over Billings, Montana with the U.S. Navy's Blue Angels on Aug 9, 2023, as "unbelievably incredible." Bo Wagner, owner of Connolly Saddlery was honored when Yellowstone International Air Show producer stopped by the store to ask if he could provide 72 cowboy hats for the pilots. It was a feat in and of itself to have all the sizes in stock, but Bo loaded his horse trailer full of hats and delivered them t...
"The values of hard work, integrity and honoring your word were established by the cowboys settling Wyoming," said Senator Lummis. "Cowboys have a legendary history and thriving culture today thanks to the modern ranchers, ropers and riders who saddle up each day and carry on the tradition.