Be Cowboy
The word cowboy denotes a lifestyle and is gender inclusive. It pertains to men, women, and children. Perhaps cowboy symbols and cowboy character are summed up best in this excerpt from American Cowboy Magazine, where they posed the question "Why Does America Need the Cowboy?"
 "Every culture needs legends and heroes; the cowboy is one of America's best. We see honor, hard work, strength, and freedom in the cowboy; we envy the simplicity of his long day's labor and the wide-open spaces he roams. Little boys want to grow up to be him, and many little girls want to grow up and marry him. He contains the last vestiges of wildness allowed in the new millennium, and as much as our country changes, he remains the same. America needs the cowboy both to remind us of how far we have come and to bring us back to the simplicity of the values he represents."
Sean Gleason, CEO, PBR (Professional Bull Riders), a staunch advocate of the western lifestyle had this to say responding to a question about The National Day of the Cowboy: "Cowboys, the original melting pot, represent people of all races, genders, and backgrounds," Gleason said. "I'm thrilled to lend my personal energy and the resources of the PBR to recognize cowboys on an educational day celebrating their valued place in American history and to promote the important values they stand for every day. We can learn a lot from the heart of a cowboy and learn to unleash the cowboy in all of us, making the world a better place."
Connolly's strives every day to serve our customers in that very attitude. Whether a world champion or wanting to be a world champion, we understand the heart reflects the person, and we want to give full rein to that cowboy within. We believe cowboy's truly do make the world a better place.
Leave a comment
Comments will be approved before showing up.
---
Also in Connolly
Aaron Flint, host of Montana Talks, could only think of two words to describe his flight over Billings, Montana with the U.S. Navy's Blue Angels on Aug 9, 2023, as "unbelievably incredible." Bo Wagner, owner of Connolly Saddlery was honored when Yellowstone International Air Show producer stopped by the store to ask if he could provide 72 cowboy hats for the pilots. It was a feat in and of itself to have all the sizes in stock, but Bo loaded his horse trailer full of hats and delivered them t...
"The values of hard work, integrity and honoring your word were established by the cowboys settling Wyoming," said Senator Lummis. "Cowboys have a legendary history and thriving culture today thanks to the modern ranchers, ropers and riders who saddle up each day and carry on the tradition.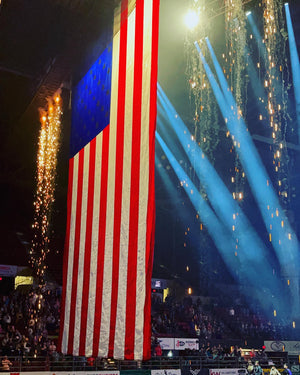 The week of July 4th, known as 'Cowboy Christmas', indicates a very lucrative week full of surprises and elation, tons of rodeos and oodles of money to be won. It's grueling and spectacular at the same time. Gift wrapped in expectations, adrenaline, and money. Even entering these rodeos has a sense of suspense and anticipation. The excitement of finding out when you're up and what stock you draw is like waking up Christmas morning to see what's under the tree!