Barrel Racers Do You Want To Be Faster?
Barrel Racing is all about Straight Lines and Tight Turns. 
An average running stride of a horse takes approximately .25 seconds while an average turn stride takes .50 seconds.
Make a run and then go examine your tracks. Decide where you can eliminate unnecessary steps.   Running straighter to the barrel and driving straight out of it to the next barrel can make a big difference.  Look where you want to go.  Ride to your pocket. (not too close, not to wide)  Keep your horse between your hands, between your legs.  Balance, rhythm, timing equals Feel, and that equals Success!
In the words of NFR Barrel Racer, Lisa Lockhart, "the success of any athletic maneuver, no matter the sport, comes down to preparation.  Even the most lightening fast moves (especially the most lightening fast moves), can be traced back to proper preparation, sometimes as subtle as a shift in weight that occurs in a fraction of a second." 
Set your horse up to Win.  Be a patient, directive rider; the release and reward method is effective.  It develops a good attitude with "try".  Your Hands communicate your message.  If you send the message, and don't release and reward  your horse for his response, he will become resistant and dead.   Your legs also communicate; Inside leg asks for the shape, outside leg keeps the shape.  Proper preparation is different for each horse, therefore, it can take some experimentation to determine the timing and combination of cues (seat, rein and leg pressure) that your horse responds best to.
Snap and quickness around a barrel comes from driving with equal and even power off both hind legs as you leave the barrel.   Helping a horse stay round in a turn has a lot to do with the degree of contact maintained through the reins and consistent, supportive, guiding contact with your legs. Round turns keep the horses hind end engaged properly, directly behind the front end.  If your horse pushes with more power on one leg than the other, a movement in one direction or the other results and your horse either bows out of the barrel or comes back over the top of it.
Barrel Racing is a process.  Miscalculations in timing, cues and application in this split second sport takes patience and perseverance to figure out.  Barrel Racing is both an Art and a Science.  Like a dance, it is horse and rider, synchronizing moves to achieve oneness.  There will be those days when you want to quit! But don't!  Persevere - you can and will - make barrel racing fun, enjoyable and efficient.
Leave a comment
Comments will be approved before showing up.
---
Also in Connolly
Aaron Flint, host of Montana Talks, could only think of two words to describe his flight over Billings, Montana with the U.S. Navy's Blue Angels on Aug 9, 2023, as "unbelievably incredible." Bo Wagner, owner of Connolly Saddlery was honored when Yellowstone International Air Show producer stopped by the store to ask if he could provide 72 cowboy hats for the pilots. It was a feat in and of itself to have all the sizes in stock, but Bo loaded his horse trailer full of hats and delivered them t...
"The values of hard work, integrity and honoring your word were established by the cowboys settling Wyoming," said Senator Lummis. "Cowboys have a legendary history and thriving culture today thanks to the modern ranchers, ropers and riders who saddle up each day and carry on the tradition.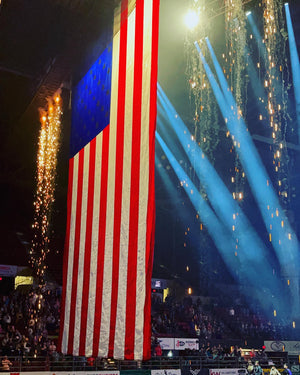 The week of July 4th, known as 'Cowboy Christmas', indicates a very lucrative week full of surprises and elation, tons of rodeos and oodles of money to be won. It's grueling and spectacular at the same time. Gift wrapped in expectations, adrenaline, and money. Even entering these rodeos has a sense of suspense and anticipation. The excitement of finding out when you're up and what stock you draw is like waking up Christmas morning to see what's under the tree!