Attitude and Effort
Connolly Saddlery has been part of the WPRA Saddle Rotation program since 2013.  Saddle makers design and present the Top 15 Qualifiers with a trophy saddle to honor their participation in the National Finals Rodeo. 
2013 was our first year in this program and it was also Taylor Jacobs first year at the NFR.     We both felt the thrill of being there.  The unknown was yet to be experienced.  I met Taylor at the Star Celebration Luncheon before the 1st performance and presented her with our saddle.  What a delight to see her inaugural runs and to witness her make history.   Taylor set the NFR fastest time record.
2014 introduced us to Kaley Bass. This was also her first year at the NFR and she came in the No. 1 position on the Leader Board.  Her quiet manner and poise told us a lot about her in our first meeting and left no doubt as to why she was able to come in leading the pack as a Rookie NFR Qualifier.
2015 was a year of emotions.  When I arrived at the luncheon, WPRA President Carolyn Vietor immediately found me and excitedly said, "Vickie Carter got your saddle!"  She was ecstatic because Vickie had an exceptional story that needed to be told.  Vickie had qualified for her first NFR because she honored the request of Rachel Hendrix's family after Rachel's untimely and tragic death earlier in the year.  They asked Vickie to ride Rachel's horse and finish Rachel's dream.  Vickie accomplished that for them.  Those emotions themselves would have daunted many of us, but the drama continued when the horse had to have emergency colic surgery before the NFR and Vickie had to ride a borrowed horse at her first NFR.   Vickie's valor was extraordinary.
2017 let us meet Ivy Conrado, who is a close friend of World Champion Jimmie Munroe, who is a close friend and long-time acquaintance of Dave and I. We had eagerly watched Ivy for years under Jimmie's artful guidance.  We were already a fan of Ivy's especially when she won Best Dressed Barrel Racer at Fort Worth's rodeo wearing one of Jimmie's NFR shirts.
2018 was a fairy tale year.  Hailey Kinsel was awarded our saddle and then went on to win the World title.  We were thrilled to meet her, enticed by her leadership and amazing story of faith.  Her testimony shared at the Sunday morning NFR church service just hours after she clinched her World Championship was inspiring.  She was not swept away by the glory; she was grounded in Jesus.
These are a few of the stories that have highlighted our past NFR experiences.  Today I contemplate design ideas for this year's saddle.  2020 was a game changing year not soon to be forgotten.  This year's saddle is designed to honor our country, our western heritage, liberty and freedom, showing how these values are mirrored in the arena.
One example is Ivy Conrado Saebens who courageously weathered a life-threatening accident to her horse JLo.  The other contestants have their own anecdotes, equally filled with courage. 
TRY means giving something every ounce of effort you can muster.  Rodeo contestants certainly portrayed 'try' this year!  A year of unprecedented hardship highlighted by bravery.  Barrel Racers and all rodeo contestants were thrown a curve ball, yet they stayed focused on what they could control – Attitude and Effort.  My congratulations go out to each and every one for being exemplary examples in trying times.
Leave a comment
Comments will be approved before showing up.
---
Also in Connolly
Aaron Flint, host of Montana Talks, could only think of two words to describe his flight over Billings, Montana with the U.S. Navy's Blue Angels on Aug 9, 2023, as "unbelievably incredible." Bo Wagner, owner of Connolly Saddlery was honored when Yellowstone International Air Show producer stopped by the store to ask if he could provide 72 cowboy hats for the pilots. It was a feat in and of itself to have all the sizes in stock, but Bo loaded his horse trailer full of hats and delivered them t...
"The values of hard work, integrity and honoring your word were established by the cowboys settling Wyoming," said Senator Lummis. "Cowboys have a legendary history and thriving culture today thanks to the modern ranchers, ropers and riders who saddle up each day and carry on the tradition.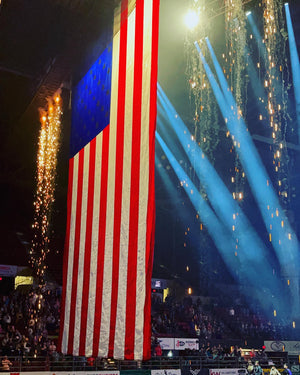 The week of July 4th, known as 'Cowboy Christmas', indicates a very lucrative week full of surprises and elation, tons of rodeos and oodles of money to be won. It's grueling and spectacular at the same time. Gift wrapped in expectations, adrenaline, and money. Even entering these rodeos has a sense of suspense and anticipation. The excitement of finding out when you're up and what stock you draw is like waking up Christmas morning to see what's under the tree!