Wisdom from the Great Horseman, Ray Hunt
"As Little as Possible; as Much as Needed."  Profound wisdom from the great horseman, Ray Hunt.
He could have been referencing bits, pads, exercise, conditioning, training, feeding, just about anything you can think of.  The quandary is figuring out the formula:   How little is possible and how much is needed? 
An added dimension to this dilemma is that you have two entities to consider--you and your horse.  One must examine every horse and every person autonomously, but at the same time, together, because that is the nature of riding.
You cannot ignore the nature of the horse.  That would be as dangerous as a swimmer ignoring the nature and ways of the water. "If a swimmer does not consider the absence of oxygen underwater, he will destroy himself either by his ignorance or by his stubbornness in ignoring the nature of water". 
Likewise, I think it applies that if a rider does not consider the nature of the horse it may not destroy him, but at least, limits what can be achieved.   Take notice of the inherent character of your horse, couple that with your own personality traits to successfully make the perfect combination.
One must understand themselves before they can recognize what their horse needs.
Consider the task at hand.  What are you trying to accomplish?  Confusion about what you're seeking to achieve helps no one.  It's all about finding the right tools for the job, according to your own unique style.  Find your style.  Once you do, perfecting it becomes much easier. 
A timid rider with "light hands" might need to use a more severe bit on a strong willed horse.  But a rider that is "heavy handed" doesn't need as severe a bit to get a good response from that same horse.  Be perceptive, figure out the combination that works for both horse and rider.  
Mistaken preception, for instance, using a severe bit on a horse with a soft mouth by a rider with heavy hands, can be calamitous.  Every rider and every horse is different and must be considered for who they are by nature, by environment, by circumstances...by all these things combined. 
Secretariat's trainer decided to train hard for the Belmont instead of resting like most trainers had always done in the past.  Secretariat was "like no other horse" and his owner and trainer knew it.  That decision, among many others, lead him to being arguably the greatest racehorse ever and the 1973 Triple Crown winner.
They figured out the perfect combination.  Which takes us back to the profound wisdom of "as little as possible; as much as needed".  Make it your goal to do the same, to figure out the perfect combination with your horse.
Leave a comment
Comments will be approved before showing up.
---
Also in Connolly
Aaron Flint, host of Montana Talks, could only think of two words to describe his flight over Billings, Montana with the U.S. Navy's Blue Angels on Aug 9, 2023, as "unbelievably incredible." Bo Wagner, owner of Connolly Saddlery was honored when Yellowstone International Air Show producer stopped by the store to ask if he could provide 72 cowboy hats for the pilots. It was a feat in and of itself to have all the sizes in stock, but Bo loaded his horse trailer full of hats and delivered them t...
"The values of hard work, integrity and honoring your word were established by the cowboys settling Wyoming," said Senator Lummis. "Cowboys have a legendary history and thriving culture today thanks to the modern ranchers, ropers and riders who saddle up each day and carry on the tradition.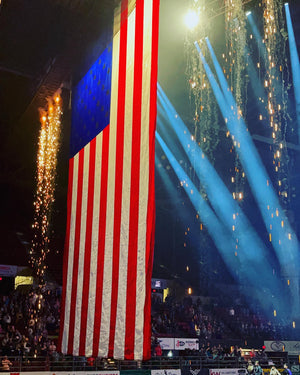 The week of July 4th, known as 'Cowboy Christmas', indicates a very lucrative week full of surprises and elation, tons of rodeos and oodles of money to be won. It's grueling and spectacular at the same time. Gift wrapped in expectations, adrenaline, and money. Even entering these rodeos has a sense of suspense and anticipation. The excitement of finding out when you're up and what stock you draw is like waking up Christmas morning to see what's under the tree!