Saddles – How Do I Know It Fits?
Saddles – How Do I Know It Fits?
The expression 'it fits like a glove' is universal to describe comfort because of fit.  A saddle that sits uniformly on the horses back 'fits like a glove'.  There are no gaps; no pinch; no rock; just a smooth overall feel.  Run your hand down the tree – front to back – feel the smooth flow.
The tree of a saddle, made of wood covered in rawhide, is an ingenious invention because wood gives just enough to make it comfortable, rawhide strengthens it and the tree distributes the weight of the rider over the back of the horse.  This timeless, age-less, practical function allows the horse to bear the burden tirelessly and remains the reason wood/rawhide covered saddle trees are the best idea in saddles for riding horses. 
That spot your saddle rests in naturally is the 'sweet spot'''.  Your horse's sigh and relaxed manner expresses his thought – sweeeeet! - ...thus the name!  To get to the sweet spot, sit your saddle slightly forward on the horse's withers, press down on the swells and let the saddle slide back until it stops at the natural resting place which is dictated by the horse's conformation.
Make sure the latigo and offside billet are centered in the dee rings and the cinch is directly in line with them, then tighten it until comfortably snug.   You are set to go.   Enjoy the ride!
Leave a comment
Comments will be approved before showing up.
---
Also in Connolly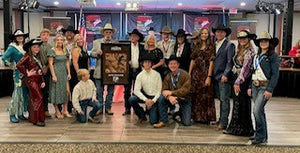 From the age of 8, PRCA Gold Card holder, Dave Wagner began accumulating buckles and saddles competing in timed-event and rough stock anywhere he could find to enter. He didn't care what event it was. He just liked to win. Junior and Youth rodeos blended into High School rodeos, then College rodeos, and onto Open and Amateur rodeos. In 1975, at age 24, Dave got his Pro card, deciding to focus on bull riding. That decision produced 5 Montana Pro Rodeo Circuit Championships -1976, 77, 78, 79, a...
Aaron Flint, host of Montana Talks, could only think of two words to describe his flight over Billings, Montana with the U.S. Navy's Blue Angels on Aug 9, 2023, as "unbelievably incredible." Bo Wagner, owner of Connolly Saddlery was honored when Yellowstone International Air Show producer stopped by the store to ask if he could provide 72 cowboy hats for the pilots. It was a feat in and of itself to have all the sizes in stock, but Bo loaded his horse trailer full of hats and delivered them t...
"The values of hard work, integrity and honoring your word were established by the cowboys settling Wyoming," said Senator Lummis. "Cowboys have a legendary history and thriving culture today thanks to the modern ranchers, ropers and riders who saddle up each day and carry on the tradition.