Connolly Saddlery...Buy a Legacy
Buy a Legacy.   Begin your own tradition.
At Connolly Saddlery, it is our belief that while we are at the forefront of many technological developments in saddle making, many tasks are better undertaken by hand.  The self-imposed standards at our family-owned saddle company are exemplified by the intricacy of our hand-made, hand-tooled saddles. 
Fortunately, as a family-owned company, we are able to nurture and protect the traditional and complex skills that make each of our saddles so unique.
Take for example our classic, Ranch Association, a masterpiece of minimal art unmatched in function.  Big swells, high back, dally horn, dee rigging, comfortable all day, ready at a moment's notice to kick into action if that stray bull needs roped.
The finesse and grace of the barrel saddles exemplify the standard of hand-finishing on our saddles, requiring skills which are as demanding as those used in the inner workings of our renowned tree and rigging.  The perfectly skived ground seat has a close contact feel.  Hand-carved, artist inspired designs provide beauty and integrity to the highest quality tanned leather.  
Copious competence is crucial to preserve the reliability of these timeless pieces of art, known as much for their purpose as their style.  They are a symbol of character, integrity, independence, speed, agility and precision. Saddles are durable, practical, loved like a friend for their ability to be part of the team.
Our self-imposed standards are a symbol of excellence beyond any existing criteria in the saddle making industry today and represents 107 years of knowledge handed down by specialists exceptional in their fields, whose talents underwrite the unrivaled standing of our company today.
To see a granddaughter or grandson get their new Connolly saddle - just like their Grandparents or Mom or Dad did - tugs at one's heart-strings.  A saddle branded with the Connolly Saddlery stamp is a legacy;  a collector's piece teemed in heritage and cherished by young and old alike as they build a family tradition.
Leave a comment
Comments will be approved before showing up.
---
Also in Connolly
Aaron Flint, host of Montana Talks, could only think of two words to describe his flight over Billings, Montana with the U.S. Navy's Blue Angels on Aug 9, 2023, as "unbelievably incredible." Bo Wagner, owner of Connolly Saddlery was honored when Yellowstone International Air Show producer stopped by the store to ask if he could provide 72 cowboy hats for the pilots. It was a feat in and of itself to have all the sizes in stock, but Bo loaded his horse trailer full of hats and delivered them t...
"The values of hard work, integrity and honoring your word were established by the cowboys settling Wyoming," said Senator Lummis. "Cowboys have a legendary history and thriving culture today thanks to the modern ranchers, ropers and riders who saddle up each day and carry on the tradition.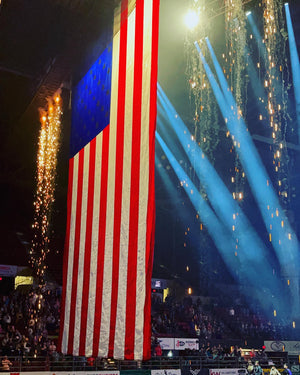 The week of July 4th, known as 'Cowboy Christmas', indicates a very lucrative week full of surprises and elation, tons of rodeos and oodles of money to be won. It's grueling and spectacular at the same time. Gift wrapped in expectations, adrenaline, and money. Even entering these rodeos has a sense of suspense and anticipation. The excitement of finding out when you're up and what stock you draw is like waking up Christmas morning to see what's under the tree!