What sets the Connolly saddles apart from other saddles
Connolly's has 107 years of saddle making experience.  In the words of owner, Dave Wagner, "Times will change and we will change with them.  Ultimately our business is about longevity, not just the sale today.  We want people to be satisfied.  It's all about what customers want, need and use.  We provide a quality product at an affordable price." 
Quality is always Number One priority with Connolly's.  Our saddles are custom, hand-crafted, built-to-use.  We have a rodeo background and understand the sport.  To ride a Barrel Racing horse effectively and efficiently the rider must feel close to her horse; the stirrup leathers need to hang correctly providing split second, immediate reaction, which means your feet and legs have to be in the correct position.   In a Connolly, the barrel racer feels "in" the saddle, not perched "on top" of the saddle.  Our Saddle maker skives a deep seat; (in the words of one pro barrel racer "it hugs your butt")!   We set our fenders so that your feet don't get behind you; the swells are built to balance and support you; the horn is strategically designed for ultimate performance coming into and getting out of barrels.
Two major considerations when buying a saddle are:  Does it fit your horse and does it fit, you, the rider.  Our trees are designed to do that.  After these two things, you look for its quality and workmanship, then accessories and beauty for eye appeal.  Our saddles are made with the best quality USA tanned Herman Oak Leather, hand-tooled by artists who take pride in their work, making sure everything is perfect down to the last detail.   We understand that these saddles are the most important component of the barrel racing team.  It doesn't matter how good you ride or how fast your horse is, if the saddle doesn't do its job, you can't do yours.  The perfect horse, rider, saddle combination allows the team to reach Peak Performance.
Many outstanding barrel racers ride Connolly saddles.  Patti Taylor, a gold card WPRA barrel racer and AQHA World Champion provides valuable insight for saddle fit, horse anatomy and overall understanding of what barrel racers want and need.  Shelly Anzick, WNFR qualifier, well known for her amazing runs vying for $1M at The American is a Connolly Saddles expert from both a contestant point-of-view and as a knowledgeable horsewoman having successfully trained numerous barrel horses. 
Leave a comment
Comments will be approved before showing up.
---
Also in Connolly
Aaron Flint, host of Montana Talks, could only think of two words to describe his flight over Billings, Montana with the U.S. Navy's Blue Angels on Aug 9, 2023, as "unbelievably incredible." Bo Wagner, owner of Connolly Saddlery was honored when Yellowstone International Air Show producer stopped by the store to ask if he could provide 72 cowboy hats for the pilots. It was a feat in and of itself to have all the sizes in stock, but Bo loaded his horse trailer full of hats and delivered them t...
"The values of hard work, integrity and honoring your word were established by the cowboys settling Wyoming," said Senator Lummis. "Cowboys have a legendary history and thriving culture today thanks to the modern ranchers, ropers and riders who saddle up each day and carry on the tradition.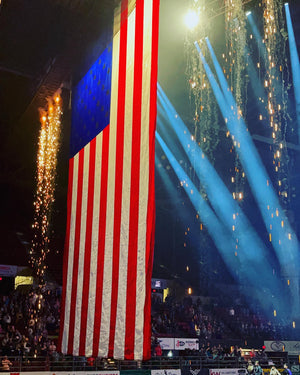 The week of July 4th, known as 'Cowboy Christmas', indicates a very lucrative week full of surprises and elation, tons of rodeos and oodles of money to be won. It's grueling and spectacular at the same time. Gift wrapped in expectations, adrenaline, and money. Even entering these rodeos has a sense of suspense and anticipation. The excitement of finding out when you're up and what stock you draw is like waking up Christmas morning to see what's under the tree!